History Meets History at Sully

It was high-tech photographic equipment at the turn of the century – more than a century ago – and Phil Foss's AL-VISTA panoramic camera still has the power to wow!

The camera and history enthusiast brought his antique camera to Sully Historic Site one day to capture some photos of a historic site with a historic camera. Staff were so impressed with the results, they asked him to consider making the photo available for purchase at Sully.

The AL-VISTA 5B swing lens panoramic camera dates back to about 1900. It shoots a 5" by 12" negative over almost 180 degrees. An advertisement from the era suggested, "If you are looking for holiday presents, ask the nearest dealer to show you an AL-VISTA. It will satisfy all demands for an acceptable gift..."

Though Foss's camera is showing some signs of wear, it's still producing photos that are far more than just "acceptable."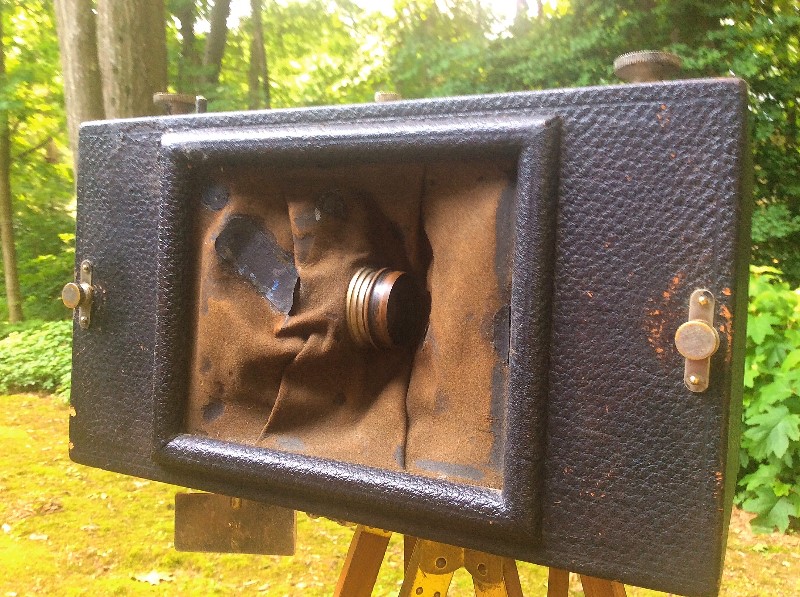 Click on photos for full resolution versions. Photo credit: Phil Foss
Get Smart about Using your Smartphone for Garden Photography – Part 2
You don't need an expensive DSLR to get great garden photos. Award-winning graphic designer and photographer Cindy Dyer offered some tips in our last issue to help shutter-bugs get the most from their smartphone cameras when shooting plants and flowers. Here are some more suggestions from Dyer:
Beauty really is in the details—Move in close to capture dramatic textures and patterns, such as pollen-covered stamens, veins in leaves (especially beautiful when backlit by the sun), or a cluster of raindrops on a petal. I always shoot overall views and then move in closer for tighter compositions. Fill the frame!
Color play—Some of my most dramatic images are of a brightly colored flower against a contrasting background, such as a hot pink coneflower against a lime green shrub. Look for striking color combinations, such as purple and yellow, white against dark green, or orange against purple.
Identification—If you're photographing a plant in a public garden and it has a label, get a shot of the plant label before and after you shoot the plant or flowers so you have information for blogging or your archives. The more you do this, the more you'll be able to identify these plants in the future.
Manual control—Phone cameras naturally have very strong depth-of-field, meaning everything from your foreground to the background will be sharp. For more manual control (such as manual focus, aperture, shutter speed, ISO, white balance, and depth-of-field), you'll need to utilize an app.
Macro photography—Normally, smart phone cameras can only focus on something three or four inches away from the lens. Move any closer, and things start to get blurry. When you want to get super close-up, try an app or add a clip-on third party macro lens to get more magnification. Consider using a tripod with your phone for macro shots to stabilize and get sharper images.
Practice, practice, practice! Photographing gardens and the natural world has been enormously rewarding for me. Learn about the features on your smartphone camera, shoot regularly, learn how to process your digital images with apps, and above all else, always stay curious!
Dyer will lead another class on Smartphone Nature Photography at Green Spring Gardens on Saturday, July 14. For more information, check Parktakes online or call 703-642-5173.
Click on photos for full resolution versions. Photo credit: Cindy Dyer
Cindy Dyer shoots botanical images as well as portraits, landscape and nature photography. She is a USPS Stamp Artist with 11 stamps showcasing her botanical photographs (Ferns, 2014; Water Lilies, 2015; and an image of a Sacred lotus at Kenilworth Aquatic Gardens, one of 16 stamps in the 2016 panel commemorating the 100th anniversary of the National Park Service). She has been published in American Photo, Shutterbug, the Washington Post, and many professional and trade publications.
Heads-Up! Photography
If you want to increase your chances of capturing wildlife in action, local wildlife photographer and photo teacher Michael J. Glagola recommends you give "heads-up" photography a try.
For this type of photography, you'll need a cable release that allows you to trigger the shutter without having your finger on the camera's shutter release. Here's how it works:
Align the camera and pre-set the focus on the location where activity is expected, such as a bird feeder or nest.
Keep your head up and eyes open. Don't look through the camera's viewfinder.
Use the cable release to activate the shutter when the subject enters your field of view, and take a sequence of shots.
When you look through the camera's viewfinder or view screen, you see only what is in the camera's field of view. When you consider the very brief amount of time you have between seeing the subject and the shutter firing, great photo opportunities can be missed.
Glagola's images from one his photo presentations dramatically illustrate the point: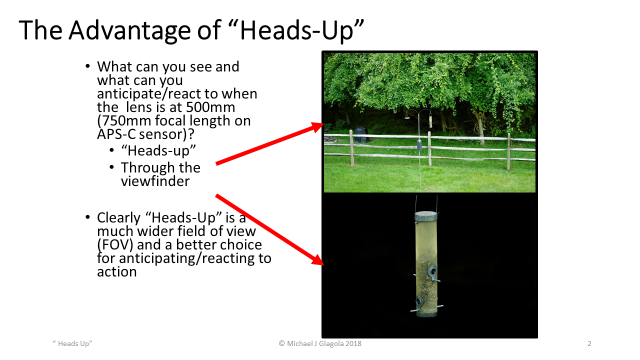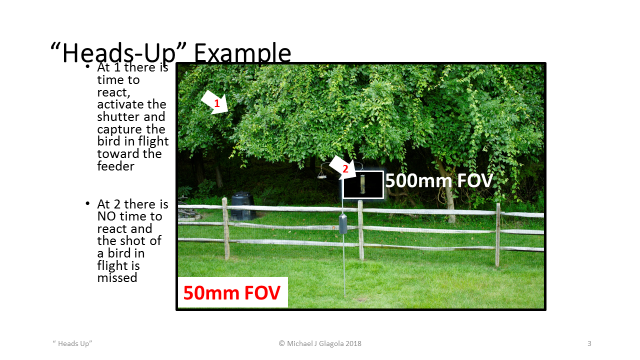 In the sequence below, Glagola saw the bird flying toward the feeder and activated the shutter. He captured the bird passing behind the feeder, doubling back, passing behind the feeder a second time, about to land on the perch and on the lowest perch. If he had been watching only through the viewfinder, he would have seen the bird far too late to capture anything in this sequence except maybe the last image.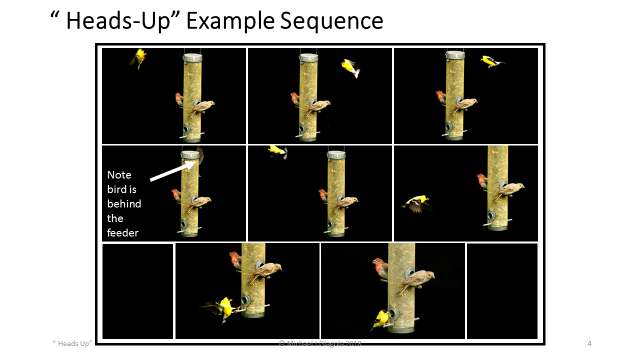 Glagola can be reached at mjg_photoworkshop@verizon.net or 703-830-6860.
Click on photos for full resolution version. Photo credit: Michael J. Glagola
Eagles Nest at Riverbend
Riverbend Park was a dream location for eagles and photographers this spring. Senior Interpreter Rita Peralta says the park had three active eagle nests that could be easily viewed within walking distance of the Riverbend Visitor Center. The nests were located on three islands on the Potomac, and visitor Scott Miller spent a couple months documenting the eaglets being raised on Minnehaha Island.
Here are some of his shots:
Click on photos for full resolution version. Photo Credit: Scott Miller
Owls at Hidden Pond
At Hidden Pond Nature Center this spring, a family of barred owls was stealing the focus.
John Gawalt captured these photos: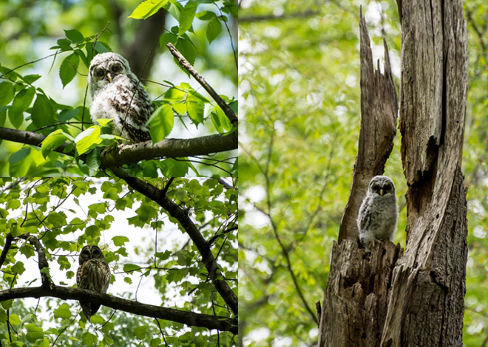 Click on photos for full resolution version. Photo Credit: John Gawalt
Senior Summer Shoots
If you have a rising senior in your house, summer is the time to get those senior portraits. While many schools schedule formal sittings in a school setting, consider grabbing your own camera to get some fun and casual images that capture the personality of those soon-to-be new adults.
Fairfax County parks offer a great variety of settings to pose your senior student. A few to consider:
For nature lovers, there are hundreds of miles of trails with lush summer greenery or water settings
For beautiful floral backdrops, stroll the gardens at Green Spring Gardens
For athletes, choose one of the hundreds of fields maintained by the Park Authority for football, baseball, softball, lacrosse and soccer
Let your senior skater go for a spin on the ice at the Mt. Vernon RECenter
For dare-devils, get action shots at the Wakefield or Lake Fairfax Skate Parks
Golfers have eight golf courses from which to choose
Swimmers can be framed at RECenter pools or coming down a water slide at the Water Mine
Musicians will find amphitheaters at many parks – check Summer Entertainment Series listings to see the many park stages
For the budding scientist or historian, stop by a park nature center or historic site
Click on photos for full resolution version. Photo Credit: Don Sweeney
Let's Be Careful Out There!
With lots of shutterbugs loose in the parks in summertime, it's a good time to review some of the rules for commercial photographers that everyone with a camera should observe.
Please be mindful and courteous toward park visitors and don't disturb educational programs or special events.
Please keep the entrances and exits to buildings, gardens, and exhibits clear of any obstructions.
Stay out of all plantings and respect all natural resources.
Don't move park amenities such as benches or rocking chairs or other period display items.
Don't climb trees, prune or break branches or stems, or cut flowers.
Be aware of and honor all posted signs.
Click on photo for full resolution version. Photo Credit: Don Sweeney
Don't Forget to Check the Expiration Date on that Permit!
All photographers conducting business on Fairfax County Park Authority (FCPA) property or in FCPA facilities must obtain a photography permit. Those permits are good for one year, so if you have one, please take a moment and check the expiration date. If it's time to get a new one, you can quickly purchase that $25 Commercial Photography Permit online at:  Commercial Photography in the Parks.
Permit holders automatically become part of the Photographer's Ambassador's Club, which includes a subscription to SNAPSHOTS. Those who wish to participate in the creation of Ambassador's Club activities and materials are asked to contact the Public Information Office at 703-324-8662.
SNAPSHOTS Reflections
We would love to hear from you! Comments or suggestions for SNAPSHOTS E-News are welcome. We encourage you to contribute an article and share your photographs to be included in a future SNAPSHOTS E-News.
Email comments, articles and photographs to Parkpix@fairfaxcounty.gov.
Contributors
Editor: Judy Pedersen, Public Information Officer
Writers and Contributors: Carol Ochs
Layout and Design: Don Tubel
Photograph Contributors: Don Sweeney, Cindy Dyer, Phil Foss, Michael J. Glagola, Scott Miller, John Gawalt
Share or Subscribe to SNAPSHOTS E-News

Forward this E-News to others so they can choose to receive SNAPSHOTS E-News. Not yet a subscriber? Select Photography from the category list when you click: