All photographers conducting business on Fairfax County Park Authority (FCPA) property or in FCPA facilities must obtain a photography permit.  The permit is good for one year from the date of purchase. The $25 permit can be purchased online by credit card.
Where Can I Shoot Commercial Photography?
The annual Commercial Photography Permit covers commercial photography at over 400 parks without additional fees or reservations.
Reservations and additional fees apply only at the following sites: Green Spring Gardens, Colvin Run Mill, Sully Historic Site and Ellanor C. Lawrence Park, as follows:
For small group photo sessions (total of 11 people or less, including photography staff), no additional fees or site Photo Session Reservations are necessary.
For groups of 12-19 people (including photography staff), a Photo Session Reservation (with additional fees) is required. The fees are $25 per hour with a two-hour minimum.
For large groups of 20-74 the fees are $100 for each two-hour photo session and an additional $50 per hour thereafter.
The two-hour minimum was established to ensure photographers have sufficient time to prepare, conduct and clean up after the session. Photo Session Reservations and fees are processed by the individual sites, on a space-available basis.
Reservations for groups of 12 or more are confirmed when the fee is paid.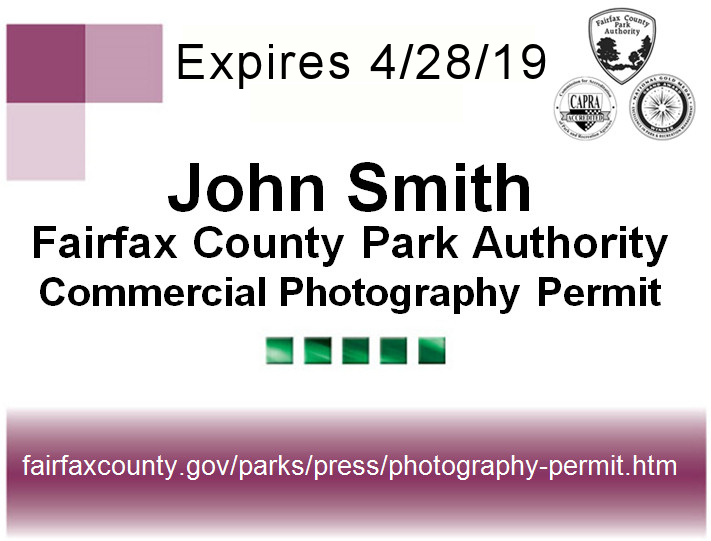 PARKTAKES ONLINE ACCOUNT
You must have a Parktakes Online account to make online purchases. If you have previously taken a program with the Park Authority or receive Parktakes magazine in the mail, you already have an account.
For information on how to create an account or recover your existing account, please visit Parktakes Online FAQs or call 703-222-4664, Monday through Friday, 9 a.m. to 4 p.m. It's FREE!
Please read and acknowledge the Rules and Regulations below, prior to purchasing the permit online:
Commercial Photography Guidelines
The Fairfax County Park Authority offers a unique variety of locations that are perfect for photographers to use as backdrops. We encourage the use of our natural and cultural treasures as well as historic sites. However, use of our properties for these purposes is secondary to our primary mission which is the preservation and interpretation of horticultural, historic, natural and cultural resources. To that end, we ask you to consider the protection of these resources first and foremost when holding commercial shoots and to follow the directions given by site staff, posted on site or within these guidelines.
Here are the rules:
Commercial photographers must have a permit which allows them to conduct business in parks or on FCPA property.
Please keep the entrance and exits to buildings, gardens, exhibits clear of any obstructions.
Stay out of all plantings and respect all natural resources.
Park amenities such as benches or rocking chairs or other period display items should not be moved.
Climbing into trees, pruning or breaking branches or stems, cutting flowers or plants or vegetables is prohibited.
No props, no balloons and no decorations of any kind may be brought onto the site for use in your photography without prior written permission from the host location or the permit office at 703-324-8516. Contact the site directly.
The interiors of historic buildings or visitors centers are not available as background for photographs.
Be aware of and honor all posted signs please.
Be mindful and courteous toward our park and site visitors; do not disturb educational programs or special events.
We are not responsible for any equipment loss or damage.
For more information contact the site directly or the Permits Office at 703-324-8516.
Purchase Permit Online
COMMERCIAL PHOTOGRAPHY PERMIT: You will need a Parktakes account to make online purchases. If you are already logged in to Parktakes, when you click "Buy Online" you will see Commercial Photography Permit in the list of Memberships. If not, please login or create an account to purchase a Commercial Photography Permit membership. Buy Online
The receipt from your online transaction will serve as a temporary permit. Within two weeks, you will receive your annual permit and holder in the mail. Please carry the permit with you when conducting commercial shoots in the parks.
Make a Reservation If Necessary
>> REQUEST PHOTO SESSION RESERVATION
Additional Information
Photography sessions must take place during normal site operation hours. FCPA does not provide staff to assist with or monitor photography sessions.
If an FCPA venue is rented for an event, then photographer fees are waived.
Permit holders will automatically become part of the Photographer's Ambassador's Club which will include periodic Snapshots newsletters and information about Park Authority sites that are perfect for photo shoots, as well as opportunities to participate in photography shows, and to learn about classes and other activities related to photography. Those who wish to participate in the creation of Ambassador's Club activities and materials are asked to contact the Public Information Office at 703-324-8662.
Other park use permits for shelters, business activity licenses, and more may be obtained at Park Use Permits.
If you have questions or would like more information, please contact us at: FCPAParkPermits@fairfaxcounty.gov
JOIN OUR SNAPSHOTS E-Newsletter.
Follow the link and select Photography.
SNAPSHOTS E-Newsletter Archive