Beacon/Groveton and Hybla Valley/Gum Springs Areas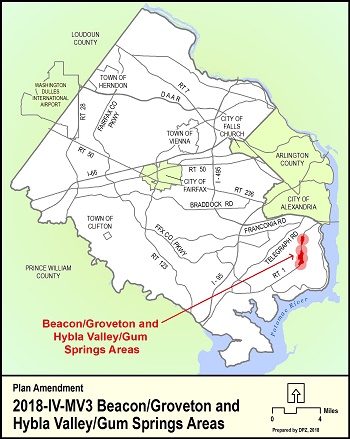 2016 Proffer Reform Bill - Exempt Area
Supervisor District:
Mount Vernon
Planning District:
Mount Vernon
On March 20, 2018, following approval of Plan amendment 2015-IV-MV1 (Embark Richmond Highway), the Board of Supervisors authorized the consideration of a Comprehensive Plan amendment for Beacon/Groveton and Hybla Valley/Gum Springs Community Business Centers (CBCs) in the Mount Vernon Planning District, Mount Vernon and Lee Supervisor Districts.
The adopted Plan for this area recommends mixed-use development around planned BRT stations and additional development potential in a later phase to support a planned Metrorail extension. The Board requested that staff evaluate the effect of the planned Metrorail extension on the areas within one-half mile of the potential station locations at Beacon/Groveton and Hybla Valley/Gum Springs areas. The evaluation may consider land use and development around the stations, including the effect on the surrounding neighborhoods. Elements such as access and connectivity should be considered. The evaluation should occur following the conclusion of the review of the suburban neighborhood areas interstices, the refined grids of streets analysis, and the development of urban design guidelines.
Click on the map (above) for a detailed enlargement of the area.