I-95 Corridor Area – Land Unit K South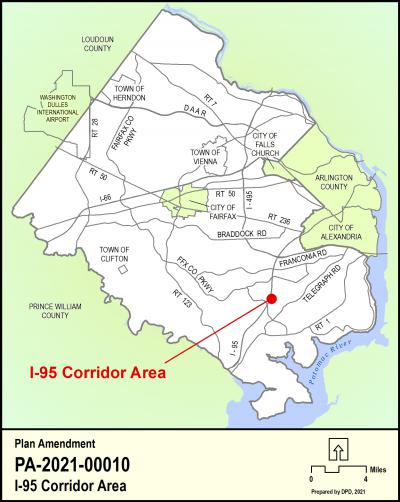 2016 Proffer Reform Bill - Non Exempt Area
Rescinded on:
April 11, 2023
PLUS Record Number:
PA-2021-00010
Tax Map Parcel:
99-2 ((1)) 2, 2A, 3, 5, 5A, and 7
Supervisor District:
Franconia
Planning District:
Springfield
On April 11, 2023, the Board of Supervisors removed 2021-IV-1S from the 2023 Comprehensive Plan Amendment Work Program. 
On January 26, 2021, the Board of Supervisors authorized the consideration of a Comprehensive Plan amendment for a mix of uses including industrial, office, and institutional uses up an intensity of 1.0 FAR, on Tax Map Parcels 99-2 ((1)) 2, 2A, 3, 5, 5A, and 7. A law enforcement training facility is identified as a potential institutional use. Consideration should be given to retaining certain existing business, such as Potomac Steel, within the redevelopment, trip neutrality as compared to the base Plan, stormwater management, buffering and screening and LEED certification. The amendment should include staff review of the adopted watershed plans and include appropriate recommendations as part of the staff analysis.
This amendment is being addressed through a Special Exception application and will not be reviewed by the Franconia District SSPA Task Force.
Click on the map (above) for a detailed enlargement of the area.