Inova-Springfield Center Drive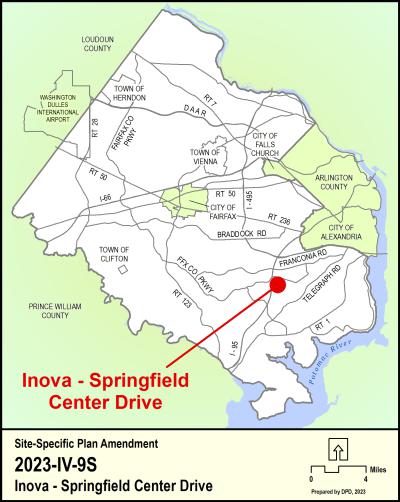 2016 Proffer Reform Bill - Exempt Area
PLUS Record Number:
PA-2023-00041
Tax Map Parcels:
90-4 ((1)) 11C
Supervisor District:
Franconia
Planning District:
Springfield
On July 25, 2023, the Board of Supervisors reauthorized the consideration Comprehensive Plan amendment SSPA-2023-IV-9S - Inova-Springfield Center Drive. The Board requested staff to consider individual plan amendments to include, but not be limited to, the land use mixes and densities/intensities on land areas in the Springfield TSA/CBC that were accepted into the 2022-2023 Countywide SSPA process (CPN22-LE-004, CPN22-LE-006, CPN22-LE-008, and CPN22-LE-009). These site-specific amendments are anticipated to be processed in advance of a broader visioning and land use planning study for the Springfield TSA/CBC (SSPA 2023-IV-1S).
The adopted Plan for the area calls for industrial uses up to 0.35 FAR with option for research and development up to 0.50 FAR. The proposed Plan recommendation is residential and/or continuing care use with ancillary retail up to 1.5 FAR.
Click on the map (above) for a detailed enlargement of the area.