Merrifield Suburban Center Study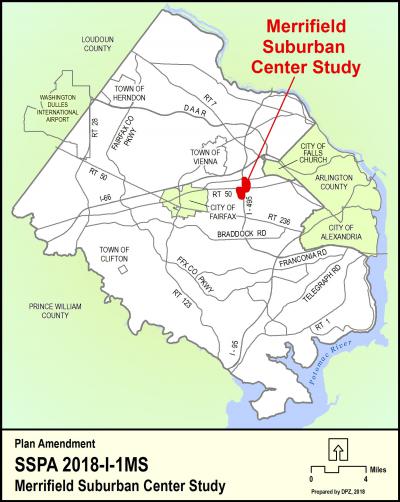 2016 Proffer Reform Bill - Exempt Area
Adopted On:
September 24, 2019
Tax Map Parcel:
49-4 ((1)) 57, 71, 73, 73A1, 73A2, 74A and 74B
Supervisor District:
Providence
Planning District:
Merrifield
On July 31, 2018 through the approval of the 2018 Comprehensive Plan Amendment Work Program, the Board of Supervisors authorized the consideration of a Comprehensive Plan amendment for a portion of the Merrifield Suburban Center, within Land Units I (pt), J (pt), and K (tax Map Parcels 49-4 ((1)) 57, 71, 73, 73A1, 73A2, 74A, 74B), in the Providence Supervisor District.
The adopted Plan for the area north of Route 50/Arlington Boulevard within Land Unit I recommends mostly office, accessory retail, and public park uses. The area south of Route 50 within Land Unit J is planned for office use. Office use up to an intensity of 0.35 floor area ratio (FAR) is recommended for Land Unit K. The Board requests that staff consider mixed-use office, hotel, residential, and other uses with an intensity range of 0.80 FAR to 1.0 FAR for the subject properties in Land Units I and J, and mixed-use development up to 1.0 FAR for Land Unit K.
Click on the map (above) for a detailed enlargement of the area.
---
Related Resources