Richmond Highway Corridor - Suburban Neighborhood Areas Study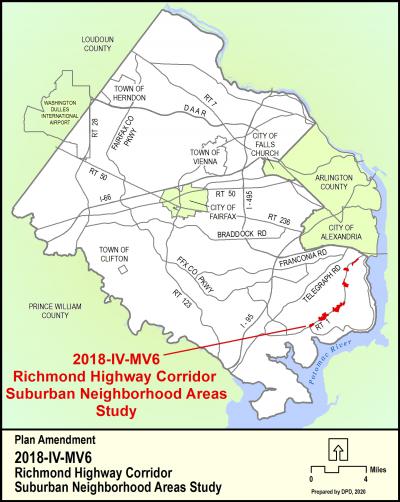 2016 Proffer Reform Bill - Exempt Area
Supervisor District:
Mount Vernon
Planning District:
Mount Vernon
On March 20, 2018, following approval of Plan amendment 2015-IV-MV1 (Embark Richmond Highway), the Board of Supervisors authorized the consideration of a Comprehensive Plan amendment for the Richmond Highway Corridor - Suburban Neighborhood Areas in the Mount Vernon Planning District, Mount Vernon and Lee Supervisor Districts.
The Board requested that staff evaluate the planned land uses within the suburban neighborhood areas between Community Business Centers along Richmond Highway. The evaluation should be informed by the nominations that are received as part of the South County Site-Specific Plan amendment process. 
Click on the map (above) for a detailed enlargement of the area.