Topgolf Site, Kingstowne Area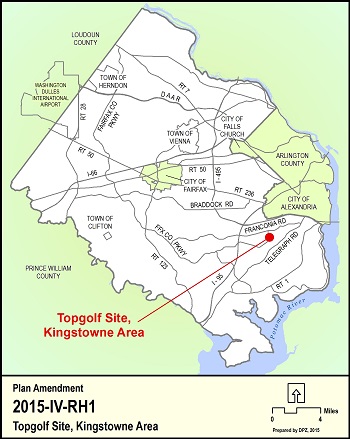 2016 Proffer Reform Bill - Exempt
(Concurrent Rezoning submitted before enactment of legislation)
Tax Map Parcels:
91-2((1))35A and 35B
Supervisor District:
Lee 
Planning District:
Rose Hill
On October 20, 2015, the Board of Supervisors authorized the consideration of a Comprehensive Plan amendment for the Topgolf Site in the Kingstowne Area (Tax Map Parcels 91-2((1))35A and 35B in the Rose Hill Planning District, Lee Supervisor District.
The adopted Plan for this area recommends residential at 3-4 dwelling units per acre. The Board of Supervisors requested that staff consider a mix of residential uses, up to approximately 275 residential units, and up to 20,000 gross square feet of retail uses for the subject property. The amendment will also consider that the retail development may be increased up to 70,000 gross square feet to accommodate an appropriate retail anchor, such as a grocery store.
Click on the map (above) for a detailed enlargement of the area.
Related Documents