How Do Trees Benefit You and Your Property?
Investing in planting trees around homes or buildings can have great returns. For every $1 spent on planting trees $3.74 is returned by: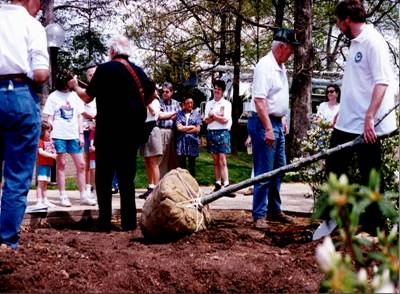 Energy conservation: Homes with shade often have energy costs that are 20-25 percent lower than those without.
Increased property values: Healthy, mature trees add an average of 10 percent to a property's value and landscaping with trees can increase property values as much as 20 percent.
Trees increase your property's aesthetic value.
Increased salability of homes: The majority of realtors surveyed believe that mature trees have a "strong or moderate impact" on the salability of homes.
Stress reduction: It has been shown that exposure to trees can decrease blood pressure and reduce muscle tension.
Trees can provide screening; increasing privacy and reducing the impacts of lights, wind and noise on your property.
Enhanced quality of life.
How Do Trees Benefit Your Community?
Improved air quality: Once mature, the additional canopy will provide 5.3 million dollars of air pollution removal annually.
Increased carbon dioxide absorption and storage: The additional canopy will absorb over 10 million pounds of carbon dioxide annually and eliminate the need for spending over one million dollars in greenhouse gas reduction services each year.
Energy conservation: 4.7 million dollars of energy conservation services will be provided by the additional canopy annually.
Improved water quality.
Improved wildlife habitat.
Decreased stormwater runoff: The stormwater management capacity associated with the additional mature tree canopy is estimated to cost $510,632,400 to construct.
Cooled ambient air temperature.
What Can You Do?
Plant trees on your property. Plant about 20 feet away from your home on the western exposures for optimum energy conservation.
Plant at least one tree per car in your household to reduce your carbon footprint.
Get involved with community tree planting groups such as Fairfax ReLeaf and Earth Sangha. For more information, visit www.fairfaxreleaf.org or www.earthsangha.org.
Advocate for tree planting on commonly-owned open spaces in your community.
Remember that all trees need to be maintained after they are planted. Visit the Virginia Department of Extension for more information about tree planting and maintenance.
Be sure to plant the right tree in the right place. Use the Fairfax County Public Facilities Manual as a guide.
Preserve trees during construction.
For more information about planting trees, contact the Urban Forest Management Division at 703-324-1770, TTY 711, or by e-mail.
General Information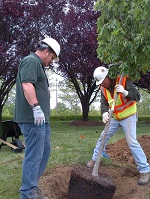 Recommendations