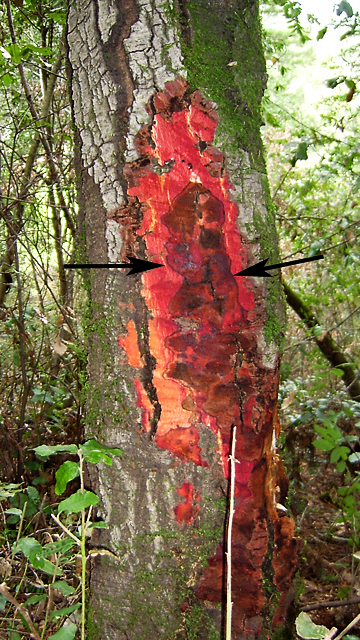 Sudden Oak Death (SOD) is caused by the mold pathogen Phytophthora ramorum. SOD was first detected in the San Francisco Bay Area in the mid-1990s. The pathogen has since killed millions of tanoak and coast live oak trees along the central California coast into southern Oregon. P. ramorum easily spreads to healthy plants by direct and indirect contact with infected plants, plant materials, soil, tools, wind, and water. The SOD pathogen is considered especially dangerous because it affects a wide variety of trees, shrubs and plants and there is no known cure.
The concern is that P. ramorum infects rhododendron, camellia, and other common horticultural nursery plants so the pathogen can be transported on nursery stock. For this reason restrictions on the interstate and intrastate movement of regulated, restricted, and associated plants and plant materials have been imposed in California and Oregon.
To date SOD has not been found on the east coast but we know that Virginia has suitable habitat for SOD to survive year-round. Fairfax County UFMD Forest Pest Branch is cooperating with the United States Department of Agriculture Animal and Plant Health Inspection Service (USDA APHIS) to watch for this disease in Fairfax County.
More than 75 plant species can either be infected by P. ramorum or facilitate its spread. The host list includes oaks, horse chestnut, mountain laurel, rhododendron, viburnum, and witch hazel. For a complete list and other information please visit the USDA APHIS web site for Phytophthora ramorum.