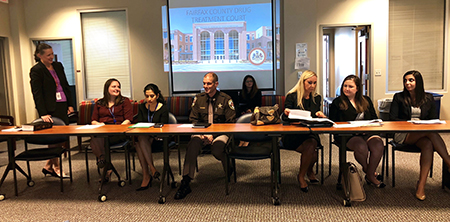 Treatment courts have proven to be successful criminal justice interventions for people with mental illness and/or substance use disorders. Building on Diversion First and the Veterans Treatment Docket, Fairfax County has launched a Drug Treatment Court led by Circuit Court Judge Penney S. Azcarate. The court's mission is to enhance public safety through cost-effective, research-based interventions that integrate treatment and court supervision. As a result, the program will save lives, save money and reduce recidivism by breaking the cycle of addiction.
The Fairfax County Sheriff's Office is a partner in this initiative with the Fairfax-Falls Church Community Services Board, the Commonwealth's Attorney, the Public Defender and District 29 Probation and Parole.
Deputy Sheriff Captain William Friedman is the law enforcement representative on the court's state-mandated advisory committee, which establishes policies and procedures for the operation of the court. "Jail may not be the best answer for people with a substance use disorder," said Friedman. "Together we are working to help individuals recover from their addiction, find supportive resources and take control of their lives so they do not end up back in our jail."
Nationally, 20.2 million adults have a substance use disorder. In 2017, an estimated 72,000 Americans died of a drug overdose. In 2016, the Fairfax County Circuit Court conducted over 630 probation violation hearings, many of which resulted from positive drug tests and non-compliance with a treatment plan.
The Drug Treatment Court is designed for Fairfax County residents 18 and older who have been convicted of a non-violent crime, were placed on probation and subsequently violated the terms of probation due to substance use. Their crime need not be alcohol or drug-related. To qualify for the program, they must meet the criteria for an alcohol or drug dependence diagnosis and be assessed as high risk and high need.
The court has five phases that take at least 14 months to complete, starting with stabilization and concluding with continuing care. Each phase varies as far as how often a participant must come to court and meet with a probation officer. The program recognizes that relapse happens, especially in the earlier phases; relapse is part of recovery. The court meets every Thursday at 9 a.m.
If the individual graduates from the Drug Treatment Court program, the judge will terminate probation and the probation violation.