Fairfax County residents can reserve thermal imaging cameras from any branch of the Fairfax County Public Library. Reserve a camera just like a book through the library catalog and it will be shipped to your local library branch for pick-up. 
Fairfax County is making these cameras available so residents can inspect their home or business for hot and cold spots, which often indicate energy saving opportunities. By implementing some of the weatherization improvements indicated below, residents can make their home a more comfortable place to live while reducing utility bills. ENERGY STAR estimates that air sealing and insulation improvements can cut heating and cooling costs by 17% for homes in our area.
Watch the video below to see the thermal camera in action.
OPERATING THE THERMAL CAMERA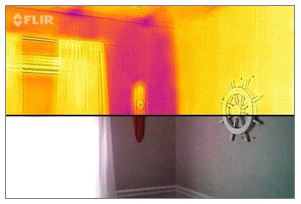 Thermal imaging cameras use color to show the relative temperature of objects: cold is purple, moderate is red and hot is yellow. In the winter, purple spots inside your home indicate a lack of air sealing or insulation. In the summer, these spots would appear yellow instead. The camera takes thermal and regular pictures simultaneously, so you can compare what is visible to you with the thermal images. 
In this image, both walls look the same to the naked eye, but the thermal camera reveals that the exterior wall on the left is colder. All of the images on this page were taken in winter, when the goal is to reduce or eliminate purple areas inside the home.
ENERGY SAVING OPPORTUNITIES
To best identify energy saving opportunities there should be at least a 20-degree temperature differential between the inside of your home and the air outside. If possible, use the camera in the morning before your home has the chance to warm up from the sun.
Common culprits for air leaks include doors, windows, exterior outlets, ducts and connections to the outside such as cables or plumbing fixtures. Areas that might need additional insulation include attics, walls, floors, foundations, crawl spaces and ducts. Older homes that have not been well maintained can usually benefit the most from air sealing and adding insulation. Air leaks and insulation gaps are also often created during renovations, when contractors are drilling holes or moving insulation around.
Examples of small, medium and large-scale projects are provided below, but every home and every homeowner is different. Whether you prefer to hire a contractor or to do the work yourself, all of the projects below can save you both energy and money. More information for do-it-yourselfers can be found on the ENERGY STAR website. If you aren't sure what your results mean, consider hiring a professional to conduct a home energy assessment.
SMALL-SCALE PROJECTS
Short-term projects use inexpensive equipment that can be found at your local hardware store. Many homeowners will feel comfortable performing these upgrades themselves.
Drafty Door: Drafts often occur under exterior doors. Add door sweeps to both regular and screen doors and check that existing door sweeps are in good condition.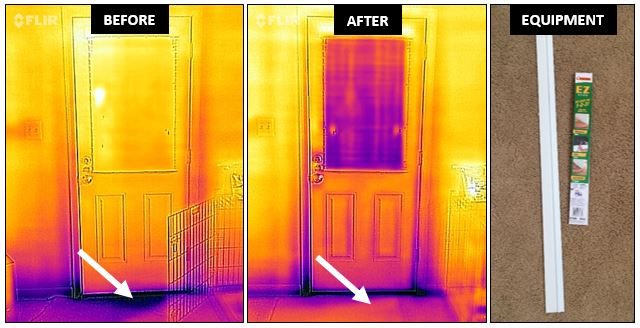 Leaky Windows: Even new windows can let air pass through around the edges. Add extra weather stripping along drafty spots such as the underside of windows that open and close. If a window is drafty along the outside of the frame rather than along the window itself, caulk is needed rather than weatherstripping.
Leaky Outlets: Exterior wall electrical outlets are often uninsulated. Block airflow by inserting socket sealers underneath outlet plate covers. For safety, you should always de-energize the circuits serving any outlets you will be working on.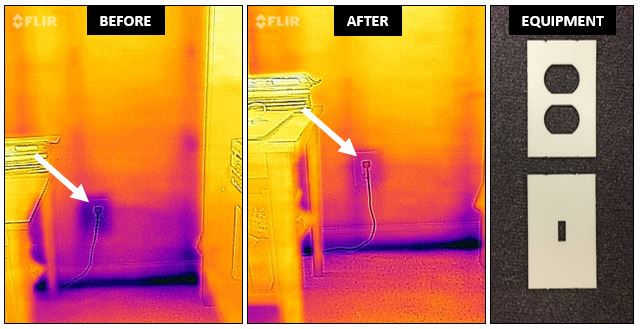 Electronics on Standby: Electronics can still suck electricity from outlets when they're not being used. Install a smart power strip to stop electricity from flowing to dormant devices.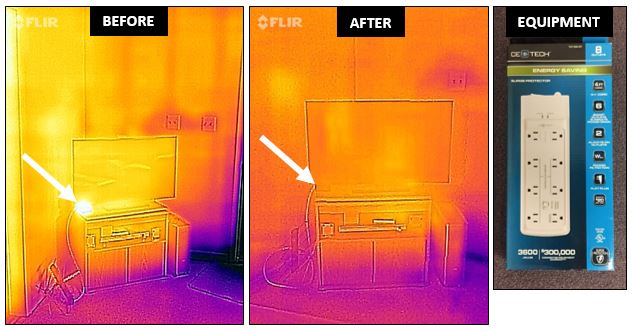 MEDIUM-SCALE PROJECTS
Medium-term projects use equipment that typically must be ordered online. Many homeowners will feel comfortable performing these upgrades themselves.
Drafty Fireplace: Fireplaces and wood burning stoves are classic areas for heat loss since chimneys need to exhaust smoke while fires are burning. During the summer months when your fireplace is not in use you can temporarily block air flow with a chimney balloon or fireplace plug.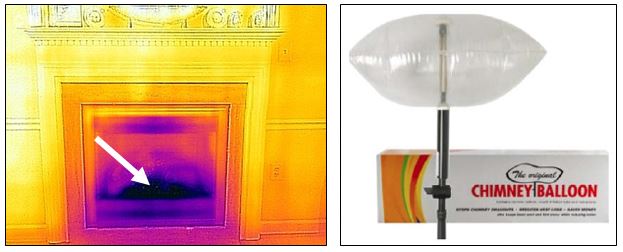 Uninsulated Attic Door: Even well-insulated attics can be missing one key component -- an insulated attic door. A variety of attic door covers are available depending on the size and type of your door. 
LARGE-SCALE PROJECTS
Large-scale projects are often performed by a contractor that specializes in energy auditing or insulation. Many homeowners will not feel comfortable performing these upgrades themselves.
Inadequate Insulation: In the photo on the left below, missing pockets of insulation are revealed by dark purple spots. If insulation needs to be added everywhere, the ceiling would appear more uniformly purple. Insulation often gets moved when installing ceiling fixtures such as recessed lighting. Whenever you place insulation near a hot object such as a light,  remember to take safety precautions like using an attic insulation shied to avoid starting a fire. 
Uninsulated Foundation: In the photo below on the right, home foundations are often uninsulated. It is also common to find air leaks between the foundation and the bottom of the house. 

Uninsulated Crawlspace: Many homes have crawl spaces under one area of the house where an addition has been added. In the photo on the left below, the yellow portion is located above a finished basement, while the purple area is located above a poorly insulated crawlspace.
Leaky Duct: The ducts that provide conditioned air throughout your house can also be uninsulated and leaky. In the photo to the right below, the yellow reveals where a duct is located under the floor. If your ductwork is exposed, you can insulate and seal it yourself, but ducts located under the floor will likely need to be addressed by a licensed professional HVAC technician. 
All of the projects above can help reduce your energy use and your utility costs. Reserve a thermal camera today to get started improving your energy efficiency at home.