The work of this Annandale Foster Care Unit is about working toward reunification of families and achieving permanency for youth who enter foster care. Supervisor Penny Talley answers a few questions about the unit:
Foster Family News: Please share your background as a manager and your philosophy of social work.
Penny Talley: About 15 months ago, I was hired as the Supervisor for the Annandale Foster Care unit. I believe strongly in teaming with others to overcome barriers or obstacles that they are facing and have an innate desire to see others fulfill their potential. I am a fierce advocate for being creative in the helping process and encouraging second chances.
FFN: How long have you worked in the field of social work?
PT: I have been working in child welfare for the past twenty-one years primarily as a counselor, youth advocate and foster care worker providing direct services to adolescents and their families.
FFN: What is the structure of your unit?
PT: Our unit has five foster care specialists, two MSW interns and is supported by an administrative assistant.
FFN: What does your unit do, and what is the main goal of your unit?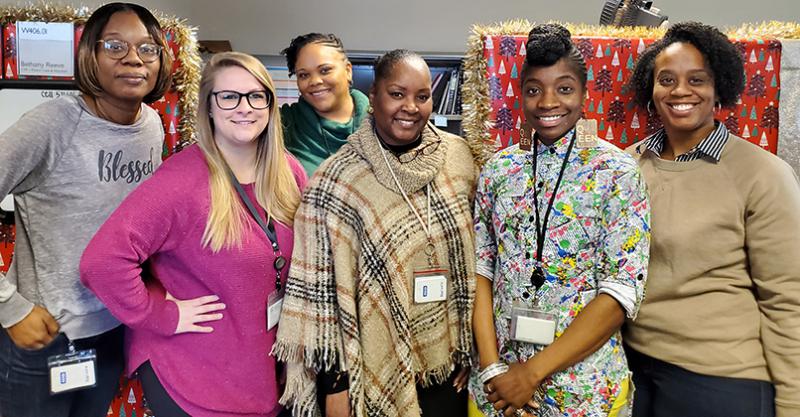 PT: We support the mission of the Department of Family Services by ensuring the safety and well-being of our clients and promoting permanency for our youth. Our main goal is making sure that our youth in Fairfax County have safe and stable home environments as we work towards reunification and permanency. We help families find the necessary support they need to raise their children.
FFN: Do you provide other supports to families?
PT: We link families to community providers or services to support family and individual needs such as housing, parenting education, child care and mental health. We help guide our families through the court process of having a child in foster care.
FFN: Who does the unit serve, and approximately how many people does that include?
PT: The Annandale unit serves between 35-40 families at any given time who have youth in foster care in Fairfax County.
FFN: What is one thing you want people to know about your unit?
PT: I have a unit of dedicated and committed foster care specialists who are strong advocates for their clients. We want to support our birth and foster families during what is often a challenging time in their lives.
FFN: How can they reach the unit?
PT: During business hours, please call, 703-324-7639 and ask to speak to the duty worker in the Annandale foster care unit or you can reach me directly at 703-533-5368.
FFN: When should they reach out to your unit?
PT: Anytime there is a question about foster care, a concern about a case or the need for support, reach out to our unit.
FFN: Is there any other question that you wish I had asked about your unit? If so, please provide an answer.
PT: Absolutely! What do we do for self-care? Given that our work days often stretches into 10 or 12 hours, we all have to decompress. Felicia loves to exercise, DJ and play matchmaker! Liz does the 52-week challenge in which she reads a different book every week of the year. Kim likes to exercise and spend time with her family. Bethany binge-watches the ID channel and hangs out with her nephews. Shakeemah spends time with her family and friends. Terri loves to clip coupons and shop. Mary enjoys time with her family. Shavon loves to shop. I like to cook and garden.
FFN: What is your favorite thing about the work you do?
PT: Collectively our favorite things about the work we do are reunifying our families, seeing the growth and strengths develop within the family, leaving our families in a better situation, empowering and advocating for our families.
---
This article posting is part of the Foster Family News monthly newsletter designed to keep foster parents informed about all the new and notable happenings in Fairfax County.
Learn about what the Foster Care & Adoption program has planned for foster families - stay on top of trends, participate in trainings and learn about policy changes.