The work of this Fairfax Foster Care Unit is about helping to find permanent homes for children in care, as well as providing support to children and families in crisis and older youth who are on the verge of aging out of care. Supervisor Melody Vielbig answers a few questions about the unit.
Foster Family News: What is your professional background?
Melody Vielbig: I started with Fairfax County DFS as a Foster Care Specialist II and then III from 1995-2000. I left the county and worked with a therapeutic foster care agency for three years and returned to Fairfax County DFS to do special foster home studies and then as a Placement Coordinator from 2006-2008. I then left the county to work in a Residential Treatment Center and then as a Home-Based Therapist. I returned to Fairfax County DFS in 2013 as a Court Liaison Specialist III, and then was promoted to Foster Care Supervisor in January 2015. I am an LCSW and have had my own private practice as a mental health therapist since 2011.
FFN: What is the structure of your unit?
MV: In my unit, I supervise two Court Liaison Specialists (one full time and one part time), an Administrative Assistant, and five case-carrying Foster Care Specialists. One of those positions is vacant and will be filled as of March 16, 2020.
FFN: Who does the unit serve, and approximately how many people does that include?
MV: The number of children we are serving can fluctuate at any time. We serve children ages birth to 17 in the legal custody of Fairfax County DFS in the Central Region and any overflow cases from other regions as well as youth 18-21 in Fostering Futures (the voluntary program offered to youth who age out of foster care but wish to continue to receive foster care support until the age of 21). We also serve youth who are at risk of entering foster care due to court involvement or Relief of Custody petitions through the court which can be birth to 17.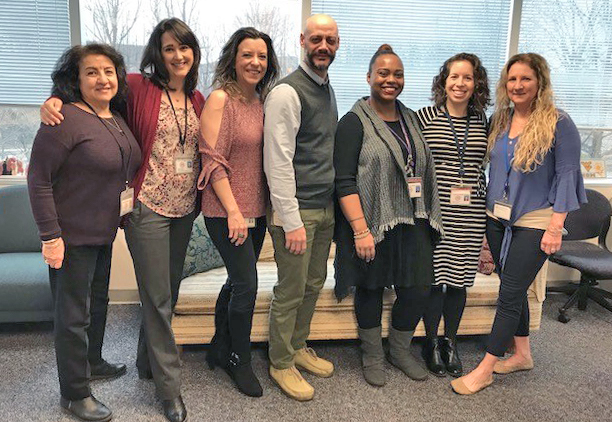 FFN: What does your unit do, and what is the main goal of your unit?
MV: My unit is unique in that we house two functions. The primary function of my unit is to care for children in the legal custody of the Department of Family Services from the ages of birth to 17 years and in Fostering Futures from 18-21. The goal of our work is to create permanency for these children with the hope that they can return home to their birth parents or original caregivers. If that is not possible, we aim to find them a permanent home with other biological family members or an adoptive family. We tend to children's emotional, physical, spiritual and educational needs through foster homes and in some cases group homes or residential treatment centers.
The other function of my unit is in the area of prevention/intake. Court Liaison Specialists work with youth and their treatment teams to support planning for interventions that would prevent youth from entering foster care who are court involved or are having behavioral struggles that lead caregivers to seek Relief of Custody. The goal remains to help youth and families plan for these youth in ways that do not end up leading to foster care. This includes services to increase family functioning and exploration of relatives or other fictive kin caregivers. If the court determines that one of these youth needs to enter foster care, the Court Liaison Specialists will serve as the intake workers for these youth and families.
FFN: What is one thing you want people to know about your unit?
MV: I am incredibly proud of my team. We have an extraordinarily close relationship.  My team is a clinically responsive unit that despite change in membership over the years has continued to function well together. No one person is alone in managing the needs of the children they are serving. I am honored to lead a team that is so responsive and collaborative.
FFN: How can families reach the unit?
MV: The best way to reach my unit is either through me, Melody Vielbig the supervisor by email or call 703-324-7676, or the duty worker who is available during business hours. My unit includes the following staff:
Kelley Traver, Foster Care Specialist III
Colleen Regan, Foster Care Specialist III
Annette Blancas, Foster Care Specialist II
Jennifer Woods, Foster Care Specialist II
Stephen Principe, Court Liaison Specialist III
Karen Chaudhry, Court Liaison Specialist II Part Time
Mahnaz Keiper, Administrative Specialist
FFN: When should they reach out to your unit?
MV: People should reach out to us when we are serving a youth and family that they wish to support or if they are seeking support for youth who are court involved or at risk of entering foster care due to reasons other than abuse or neglect (Court Liaison).
---
This article posting is part of the Foster Family News monthly newsletter designed to keep foster parents informed about all the new and notable happenings in Fairfax County.
Learn about what the Foster Care & Adoption program has planned for foster families - stay on top of trends, participate in trainings and learn about policy changes.