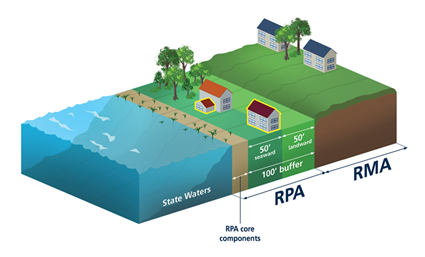 Minor residential additions can be reviewed and approved for construction in a Resource Protection Area (RPA) per County Code 118-5-5 (A) and 118-5-5 (B), provided these conditions are met:
Dwelling was built prior to the establishment of the RPA (before Jul. 1, 1993, or Nov. 18, 2003, depending on the RPA mapping designation);


Addition is attached to the primary structure;


Results in a cumulative total of less than 1,000 square feet, or 2% of the total lot area up to a maximum of 2,500 square feet, of impervious area within the RPA, whichever amount is greater;


If the associated land disturbance for the project is less than 2,500 square feet, use the Chesapeake Bay Preservation Ordinance Resource Protection Area (RPA) Exemption/Exception Request Form and refer to the Submission Process below. If the total proposed disturbance exceeds 2,500 square feet and requires a grading plan, use the form for further review by the Site Development and Inspection Division; and,


If the proposed addition is located within 15 feet of a floodplain boundary (or for decks, within the floodplain boundary), a separate Floodplain Use Determination (FPUD) is required. See below Submission Process for further details.