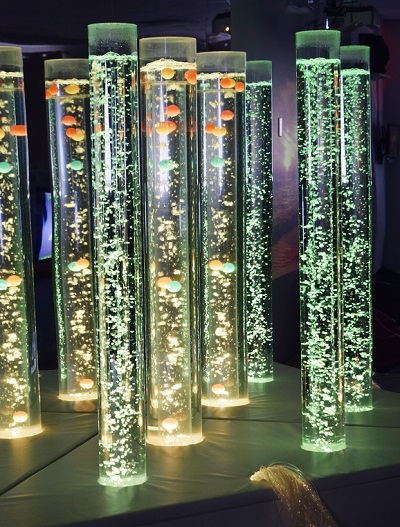 Light, color, texture, sound, fragrance, motion… These can all be used to calm or arouse the senses. They are also core elements in the Sensory Room, a unique therapeutic space at Providence Community Center in Fairfax. Opened in 2015, the room is dedicated to Deputy County Executive Patricia D. Harrison, who played a key role in its inception.
As a certified Snoezelen® Multi-Sensory Environment, the Sensory Room promotes stress-free engagement and physical and intellectual development, particularly for individuals with physical and intellectual disabilities. Coined in Holland in the 1970s, the term Snoezelen is a contraction of the Dutch verbs "snuffelen" (to seek and explore) and "doezelen" (to relax).
According to Bekah Stone, the Inclusion Specialist at Providence Community Center, "Our purpose in sharing this special Snoezelen multi-sensory room with the community is to improve quality of life for people of all ages. By providing a nurturing environment and structured interaction, we can help individuals relax, learn, communicate, focus, improve memory, and develop social skills."
Upon entering the Sensory Room on the second floor of Providence Community Center, visitors are greeted by low lighting and soft music. With colorful images projected on the walls and floor, the trickling sound of water emitted by bubble tubes, and the soft glow of fiber-optic light strands, the room feels like an otherworldly oasis. Its immersive elements are Wi-Fi enabled, allowing themes, images, sounds and colors to be customized for individuals using the space.
Some of the room's state-of-the-art features include:
An oversized circular remote that makes it easy for people of all abilities to control colors and sounds. This promotes inclusivity, choice, control and accessible learning.
Interactive wall panels and a large floor mat that can be used passively as visual stimuli or to play games teaching cause and effect and color recognition.
Bubble tubes offering visual, audible and tactile stimulation through gentle vibrations.
Swinging chairs to provide needed vestibular stimulation for individuals with balance and sensory processing issues.
The Sensory Room is open by appointment only to all registered members of Providence Community Center (membership is free for Fairfax County residents and open to others for an annual fee). All programs are led and/or supervised by full-time Inclusion Specialist Bekah Stone, who is a Certified Therapeutic Recreation Specialist, and Kevin Aly, a Therapeutic Recreation student and part-time activity facilitator at Providence.
In addition to one-on-one and group sessions, the Sensory Room offers a full slate of weekly programs including a meditation and open relaxation station for adults; an adaptive seated yoga class for people living with mobility concerns; a sensory program for children 3 and under and their parents; and open time for teens to connect and explore.
The Sensory Room also partners with Fairfax County Public Schools and the SACC program to offer weekly and monthly field trips, as well as the Infant and Toddler Connection to assist families of young children experiencing developmental delays.
For a weekly programming schedule, view the Providence Community Center activity calendar. For more information on the Sensory Room or to schedule a visit, call 703-865-0534.