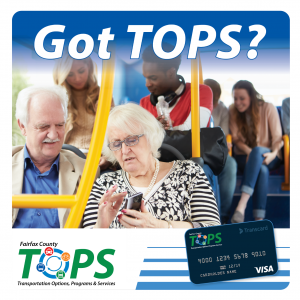 Fairfax County is offering a new program called TOPS (Transportation Options, Programs & Services) that replaces the previous taxi voucher programs (Seniors On-The-Go!, TaxiAccess, and Dial-A-Ride). The streamlined program provides a transportation debit card in lieu of paper vouchers and offers more transportation options in addition to taxi services.
To be eligible for TOPS, you must be a resident of Fairfax County or the City of Fairfax, plus meet one of the following criteria:
Fifty years of age or older, with an annual income of $50,000 or less per household.
Registered user of MetroAccess.
Recipient of Supplemental Security Income (SSI) or Social Security Disability Insurance (SSDI).
Annual income that meets the 225% federal poverty levels by household size.
Program participants are eligible for two subsidies per year (one every six months). Each subsidy will provide $100 in benefits at a cost to the participant of $20. These subsidies may be used for an expanded menu of transportation options that includes taxicabs, rideshare services (Uber and Lyft), public transportation via SmarTrip card (bus and rail), and Capital BikeShare rentals.
To apply to TOPS, visit http://bit.ly/NCStransportation.
If you are already registered for at least one of the three previous taxi programs and you have purchased vouchers in the last two years, you will be automatically transitioned to TOPS and instructions will be provided on how to purchase and add funds to the debit card.
If you currently have taxi vouchers in hand with the expiration date of 12/31/20 or 3/31/21, you have until June 30, 2021 to return for an adjustment and credit to your TOPS card.
If you have questions about the new TOPS program, please contact Human Services Transportation Customer Service at 703-222-9764, TTY 711.