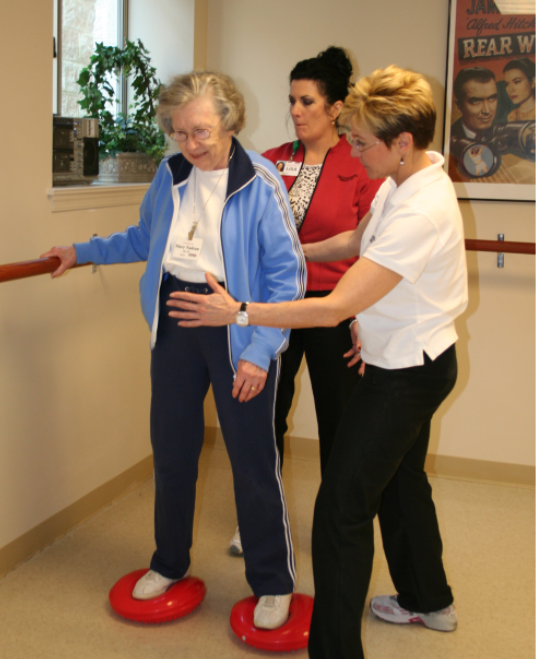 Our inclusion services for older adults enable seniors with minor cognitive and physical disabilities to actively participate in the day-to-day activities at Fairfax County Senior Centers. The program is provided in partnership with ServiceSource – a local non-profit organization with extensive background in supporting older adults and adults with disabilities.
Services are divided into two main functions:
Therapeutic Recreation: Recreational therapists are available to design and implement adaptations and modifications needed to support members' participation in day-to-day center activities.
Case Management: Staff will offer guidance and provide referrals to individuals and families in determining the appropriate programs and services to meet seniors' needs.
The program is designed to:
Allow seniors with disabilities to enjoy the wide range of programming found at Fairfax County senior centers.
Enable participants to remain in the least restrictive environment and maintain as much independence as possible.
Reduce loneliness and isolation by providing fun and enjoyment in addition to preserving dignity and enhancing the quality of life for each participant.
Eligibility and Fees
All registered members of Fairfax County senior centers are eligible to receive supportive services as needed. To qualify for membership at Neighborhood & Community Services (NCS) Senior Centers, a participant must be 50 years of age or older and with minimal support be:
Able to orient correctly to person, place and time
Able to independently navigate to programs and through center facilities safely
Able to get on and off a county vehicle independently or with a lift
Able to remain seated in a county vehicle with the seat belt fastened until the vehicle comes to a complete stop
Able to receive and follow instructions independently
Able to recognize and respond appropriately to emergency warnings
Able to function independently in a social setting using appropriate and respectful manners, language, and self-control
Able to maintain personal care (eating, restroom usage, personal hygiene, medication management) independently
There is no fee to receive supportive services; however, all recipients must be current registered members at Fairfax County senior centers and are responsible for the annual $48 or $24 membership fee (depending on your income) for county residents. The annual fee for non-county residents is $100.