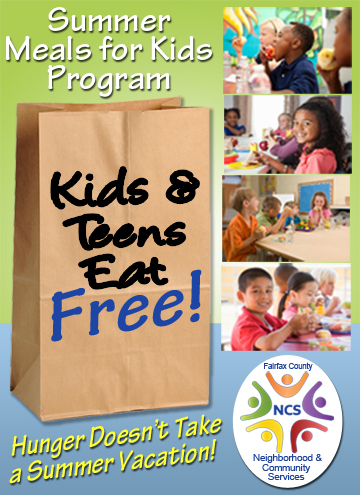 Approximately 29 percent of Fairfax County students receive free and reduced price meals during the school year. When the school year ends, so does the opportunity for consistent, nutritious meals for many of these students. The Free Summer Meals for Kids Program fills that need by providing nutritious meals to children ages 5 to 18 during the summer – because hunger doesn't take a summer vacation.
 
---
Service Dates, Meal Sites & Eligibility

The 2018 Summer Meals for Kids Program has concluded. A sincere "thank you" to all of our partners and meal site hosts for your service to our community. This program could not enjoy the success we experience every year without your continued generosity and partnership. We are always looking for willing partners to help us continue to serve those children in need of healthy, nutritious meals during the summer months. Please click the link above for additional information and to sign up to be a meal site for our 2019 program.
Please continue to check this link for upcoming information on our 2019 summer meals program.  Locations and hours of operation for the 2019 program are anticipated to be posted in the Spring 2019.
 
---
Related Links