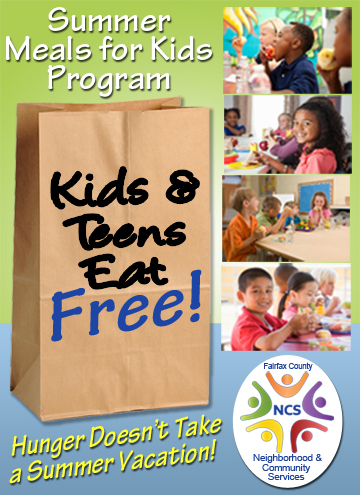 Approximately 29 percent of Fairfax County students receive free and reduced price meals during the school year. When the school year ends, so does the opportunity for consistent, nutritious meals for many of these students. The Free Summer Meals for Kids Program fills that need by providing nutritious meals to children ages 5 to 18 during the summer – because hunger doesn't take a summer vacation.
 
---
Service Dates, Meal Sites & Eligibility
June 17 - August 23*
*Service dates and meal services may vary depending on location - see open and closed site lists for details.
Open sites are established in areas where 50 percent or more of the students receive free or reduced price meals at school. At these locations, meals will be provided to all children without charge.
 
Closed sites are designated in areas where less than 50 percent of the students receive free or reduced price meals at school. To be eligible to receive free meals at a residential or non-residential site, children must meet the income guidelines for reduced price meals in the National School Lunch Program. Children who are part of households that receive SNAP, or benefits under the Food Distribution Program on Indian Reservations (FDP1R), or Temporary Assistance to Needy Families (TANF) are automatically eligible to receive free meals. 
Additional Meal Locations: Additional meal sites are managed by Fairfax County Public Schools through their FEEDS (Food for Every child to Eat During the Summer) program. Sites offer Super Snack Breakfast, Super Snack Lunch or BBQ Lunch. All meals are provided at no cost to children 18 years and under.
Acceptance and participation requirements for the program and all activities are the same for all regardless of race, color, national origin, sex, age or disability, and there will be no discrimination in the course of the meal service.
 
Related Links