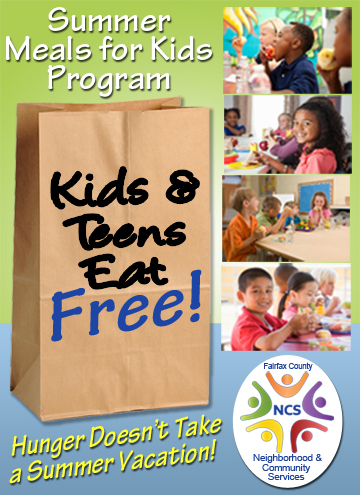 Approximately 29 percent of Fairfax County students receive free and reduced price meals during the school year. When the school year ends, so does the opportunity for consistent, nutritious meals for many of these students. The Free Summer Meals for Kids Program fills that need by providing nutritious meals to children ages 5 to 18 during the summer – because hunger doesn't take a summer vacation.
Summer Meals for Kids Locations
Supper meals are available for pickup daily at:
Cathy Hudgins Community Center at Southgate in Reston, Monday-Friday, 3-4:30 p.m.
"Grab and Go" meals are available for pickup daily at:

Additional Meal Locations
Fairfax County Public Schools Summer Meals
USDA and VDOE have approved meal service at all existing food distribution sites (including bus routes) over the summer months.  FCPS Food and Nutrition Services will continue to monitor data and community feedback to adjust grab and go delivery points as needed.  All FCPS students (regardless of age) are eligible for free grab and go breakfast and lunch, as well as other county children, under the age of 18. Adults may pay $2 for the meals as well. Meal distribution information is kept current on Coronavirus Update - Food Resources for Families. 
For additional community food distribution sites, including FCPS grab and go locations, community meal distribution, food pantries and other related services, visit the Fairfax County Food Resources map.
Acceptance and participation requirements for the program and all activities are the same for all regardless of race, color, national origin, sex, age or disability, and there will be no discrimination in the course of the meal service.
 
Related Links