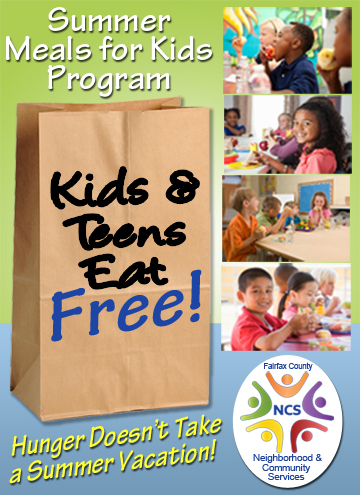 Approximately 29 percent of Fairfax County students receive free and reduced price meals during the school year. When the school year ends, so does the opportunity for consistent, nutritious meals for many of these students. The Free Summer Meals for Kids Program fills that need by providing nutritious meals to children ages 5 to 18 during the summer – because hunger doesn't take a summer vacation.
 
---
Service Dates, Meal Sites & Eligibility

The 2018 Summer Meals for Kids Program will operate between June 18 and August 24 (individual site schedules may vary depending on locations - see site listings for details). All meal sites are located in areas where 50 percent or more of students receive free or reduced price lunches at school. Sites are designated according to national guidelines as either "open" or "closed" sites.
 
Acceptance and participation requirements for the Program and all activities are the same for all regardless of race, color, national origin, sex, age or disability, and there will be no discrimination in the course of the meal service.
 
---
Related Links