Fairfax County Parkway at Burke Centre Parkway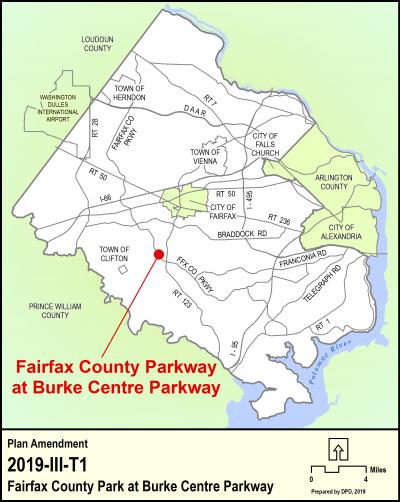 2016 Proffer reform Bill - Non-Exempt Area
Supervisor District:
Springfield
Planning District:
Pohick
On September 24, 2019  the Board of Supervisors authorized the consideration of a Comprehensive Plan amendment to the transportation plan recommendations for Fairfax County Parkway at Burke Centre Parkway in the Pohick Planning District, Springfield Supervisor District.
The adopted Plan for this area recommends no changes to the currently signalized intersection configuration at Fairfax County Parkway and Burke Centre Parkway. The Board requests that staff consider whether a partial grade-separated interchange (i.e., overpass/underpass) at this intersection should be added to the Plan recommendations. If the improvement is added, additional guidance to minimize impacts to the Fairview Woods Community should be included in the text to the maximum extent feasible. Supporting analysis will be conducted for the proposed Plan amendment as part of the ongoing Fairfax County and Franconia-Springfield Parkways Alternatives Analysis and Long Term Planning Study, anticipated to be completed in 2020.
Click on the map (above) for a detailed enlargement of the area.