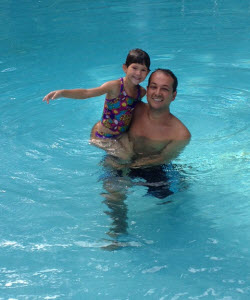 Pool owners and operators can help protect local streams and rivers.  Please follow these guidelines before draining (discharging) swimming pool water.
Pools Traditionally Disinfected With Chlorine or Bromine
Pool water may be allowed to enter a stream or storm drain after taking these steps:
Let pool water stand untreated for at least seven days to allow chlorine or bromine to dissipate.
Test the pH of the pool water to ensure it is close to neutral (near pH 7) before draining.  Adjust the pH if necessary.
Remove excess sediment and leaves from the water.

Release the dechlorinated pool water before adding product to winterize the pool.

Drain pool water over a well-vegetated area on the owner's property to slow it down and aerate it. Pool water should not be drained directly into a storm drain or a stream, except as a last resort. As a courtesy, avoid draining pool water across neighboring properties.
Drain the water at a slow rate so it does not erode stream banks downstream of the pool.
Saltwater Pools
Saltwater from pools should not be drained into a storm drain or stream. Fairfax County recommends using one of the following options:
Drain pool water to the public sanitary sewer system through a household drain such as a bathtub, sink or floor drain. To avoid damage to your property:

Ensure the plumbing is adequate to accept the rate of flow from the pool. Check with a licensed plumber before draining pool water into a sanitary drain.
Do not drain pool water into a septic system.

Use a licensed sewage handling service to dispose of the saltwater properly.
Residents may not open a manhole cover to drain pool water into the sanitary sewer system.
What are the concerns?
Discharging pool water the wrong way may harm the environment and violate regulations.
County regulations. Chapter 124 of Fairfax County Code, also known as the Stormwater Management Ordinance, went into effect on July 1, 2014. Article 9 of this ordinance prohibits the discharge of anything other than naturally occurring surface or subsurface waters to Fairfax County's storm drainage system (also known as municipal separate storm sewer system, MS4) and waters of the state without a permit from the state.
Threats to aquatic life.  Chlorine, bromine, salt and other pool chemicals that are used to keep pools safe for people can kill fish and other aquatic life in streams. Stagnant pool water contains little oxygen and can also kill aquatic life when it flows into a stream.
Stream bank erosion.  Draining water from pools too quickly can cause erosion of the stream bed and banks, especially in smaller streams. The erosion can ruin habitat and water quality.
For Additional Information
Owners of residential pools may contact the Stormwater Planning Division, 703-324-5500, TTY 711. Commercial swimming pool operators should contact the Health Department at 703-246-2300, TTY 711.