Search Historic Records Center
Historic Records Center Closed to Public
Effective Tuesday, March 24, 2020, the Historic Records Center is CLOSED to the public. Staff are available for research assistance and can be reached at 703-246-4168 or CCRHistoricRecords@fairfaxcounty.gov.
About Us
Welcome!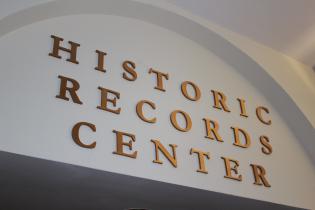 The mission of the Fairfax Circuit Court Historic Records Center is to preserve and make available to the public the historic records of the Fairfax Circuit Court. Under §42.1-76 of the Code of Virginia (Virginia Public Records Act), public records created earlier than 1913 are considered historic and are to be maintained in perpetuity by the Commonwealth of Virginia.
The Fairfax Circuit Court Historic Records Center (HRC) holds records of the county and circuit courts dating from the formation of Fairfax County in 1742 up through the early 1900s.  The HRC is a working archive and is open to the public.  Research may be conducted in person in our office, or by utilizing online indexes.  Staff is available to provide suggestions to start your research; however, we cannot conduct your research for you. Also, please note that pursuant to §54.1-3904 of the Code of Virginia, Circuit Court employees are prohibited by law from giving legal advice. To help us preserve our historic building and records; no food or drink is allowed.
A Look at the Historic Records Center
Security Screening
All visitors to the Historic Fairfax Courthouse and Historic Records Center are required to show photo identification when entering the building and submit to a security screening.  Please click here to review the court's security screening policies and procedures.
Electronic Devices Policy
Portable electronic devices are allowed in the Historic Records Center. Visitors may be asked to turn on any electronic devices they bring inside the courthouse by security staff. Acceptable portable electronic devices include:
Laptop computers
Tablet computers
Mobile telephones (including phones with cameras, audio and video recording, and transmission capabilities)
Electronic calendars
E-book readers.
Free Wi-Fi is available inside the Historic Records Center.
Our Location
How do I get to the Historic Records Center ?
The HRC is located in the Historic Fairfax Courthouse in Old Town Fairfax, which stands at the intersection of Main Street (Route 236) and Chain Bridge Road (Route 123).