Search Historic Records Center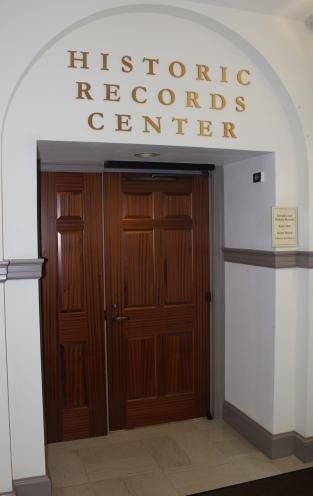 The Historic Records Center is the archives for the Circuit Court; it houses records dating from 1742 up to the 1940s. From 1982 to 2013, the archives were located in the Judicial Center. Since 2013, the archives have been housed in the 1928 addition to the Historic Courthouse. Our current location is very appropriate, as the Circuit Court Clerk kept his office and records here from at least 1930 up to the creation of the Judicial Center. Our space was extensively remodeled in 2012, thanks to a tax bond for the improvement of Fairfax County public buildings.
Our records fall into four main groups: land (deeds), probate (wills), court order books (records of court sessions) and chancery case files. Before the creation of the Board of Supervisors in 1870, the court was responsible for all other aspects of county government. This has given us many other smaller record groups such as elections, roads, public buildings, schools, taxes, business licenses, relief for the poor, care of orphans and public health. We also have marriage certificates from 1855 to 1954, and a limited number of birth and death records. Archives staff in the 1970s and 1980s indexed all record groups up to 1870, and this index is invaluable to researchers studying specific individuals and broader social history.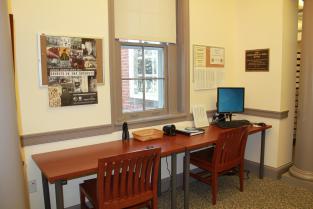 Our records from 1742 to the Civil War are not complete. Both the Union and Confederate troops either burned loose documents for kindling or cooking, or sent some documents home as souvenirs. Several of our court order books, such as those covering the years 1742 to 1748 and the Revolutionary War period were carried away; again, most likely as souvenirs. Overall, however, much of the county's history can be found in the Historic Records Center.
The Historic Records Center is an open research archive and we encourage members of the public to explore Fairfax County history's through the records of the Circuit Court.