Search Historic Records Center
 Brief History of the 1799 Fairfax County Courthouse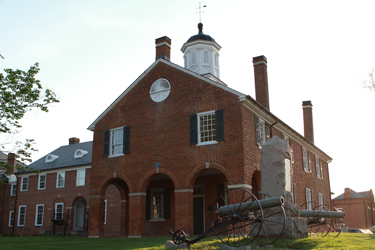 Located at the intersection of Little River Turnpike (Rte. 236) and Chain Bridge Road, the Historic Fairfax Courthouse has stood here since construction was completed in 1800. The Historic Fairfax Courthouse is the third iteration of the Fairfax County Courthouse, the first being built near Tyson's Corner around 1742. In 1752, the Courthouse was relocated to Alexandria following pressure from Alexandrian businessmen. Virginia ceded Alexandria to the Federal Government in 1789, to make room for the construction of a "federal territory," now known as the District of Columbia. As the county court could not meet outside the boundaries of the county, a new location was earnestly sought. In 1798, Richard Ratcliffe donated four acres of land for the construction of the Fairfax Courthouse in the town of Providence (now the City of Fairfax).
In 1799, work started on the new courthouse using a design by architect James Wren. The first court session was heard in the new courthouse on April 21, 1800.  Situated at a county crossroads (Little River Turnpike and Chain Bridge Road), the courthouse would have been surrounded by open fields. Providence was a very rural town, but the presence of the courthouse soon demanded certain amenities. A large tavern built opposite the courthouse, known as the Wilcoxen Tavern, served as hostelry and unofficial offices for the justices and lawyers who travelled here each month for court. In 1844, a cupola and bell were added to the courthouse for the purposes of calling court into session.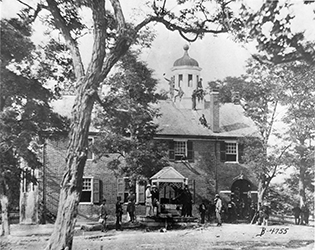 Court was interrupted during the Civil War, and damage to the courthouse interior was inflicted by both Union and Confederate troops. Immediately after the war, the courthouse was renovated. Photographs taken in the early twentieth century show several renovations of the interior, including changes in the orientation of seating and wooden paneling behind the judge's bench.
The last major changes to the courthouse occurred during the 1967 renovation by architect Walter Macomber, who was directed to give the interior a more historic feel. Changes included the addition of 19th century benches from Jerusalem Baptist Church, and more colonial-style wainscoting. Circuit Court was held in the Historic Fairfax Courthouse until the creation of the Judicial Center in the 1980s, and Juvenile Court was held here until 2008.
With the resumption of monthly civil motions in the Historic Courthouse in 2017, the courthouse is, once again, an active courthouse! The public is welcome to attend these public hearings. Learn more about the Historic Courthouse Friday Motions here .
Fairfax County Historic Courthouse and the Influence of Architecture