The Fairfax County Community-wide Energy and Climate Action Plan (CECAP) development process is administered by the Office of Environmental and Energy Coordination with support from the Metropolitan Washington Council of Governments and the Fairfax County-based management consulting firm ICF. The plan, which will be the first of its kind for the county, will include a greenhouse gas inventory as well as targets for greenhouse gas reduction in the coming years.
The CECAP will also include actions and strategies to help mitigate climate change and to reduce the impact of climate-related events on county residents and businesses. At the conclusion of the development process, a final plan will be presented to the Board of Supervisors for adoption.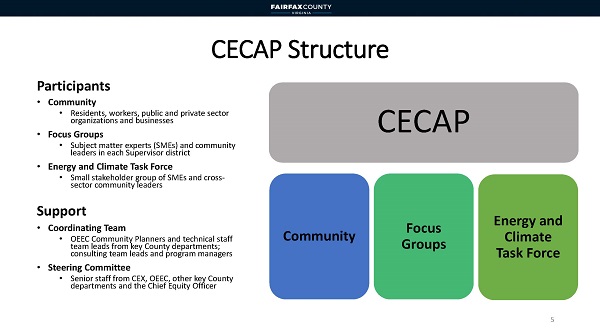 Community input and involvement is critically important to the success of the CECAP. The plan will be primarily developed by an Energy and Climate Task Force composed of leaders from the business community, local and regional nonprofits, and residents from each of the nine Fairfax County Supervisor districts. Each district will have a Focus Group composed of community members with experience or interest in climate, energy and environmental issues. In 2020, all county residents will have the opportunity to become involved at a series of public meetings.
Information about engagement opportunities will be posted here as it becomes available.