Percent Contribution to Emissions Reductions Needed in 2050
CECAP's goals were set by the CECAP Working Group, which was composed of numerous community representatives and served as the community decision-making body for CECAP.  To assist in the Working Group's deliberations and goal-setting, consultants developed and presented six emissions reduction scenarios, as well as a business-as-usual case. The figures shown above represent the modeled emissions reductions corresponding to the 2050 goal selected by the CECAP Working Group.
A Greening Electric Grid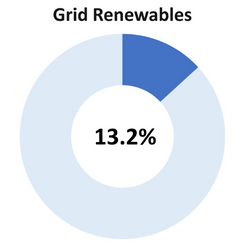 Over the last two decades, Virginia utilities have been reducing their use of coal to generate electricity, leading to significant drops in carbon emissions. In fact, carbon emissions from electricity generation have decreased by 49% from 2005 to 2021 (as measured in metric tons of CO2-equivalent per MWH of net electricity generation).  The use of fossil fuels to generate electricity is expected to drop further over time due to the 2020 enactment of the Virginia Clean Economy Act (VCEA).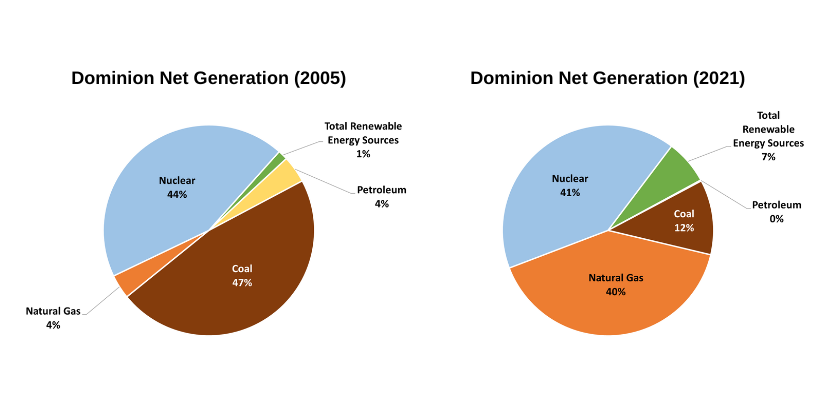 The VCEA establishes a "renewable portfolio standard" (RPS), or clean energy targets, for Virginia's investor-owned electric utilities.  The RPS for Dominion Energy, which provides electric service to most of Fairfax County, starts at 14% in 2021 and reaches 100% by 2045.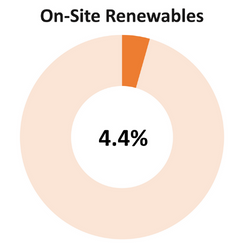 CECAP seeks to increase the amount of onsite renewable energy generation in Fairfax County, with an emphasis on solar photovoltaic (PV) systems.  While CECAP does not set a specific goal, on-site renewable energy generation is making in-roads in the community, with an increasing number of citizens and businesses installing on-site solar generation year-over-year. 
The county's Operational Energy Strategy includes two renewable energy targets:  increase renewable energy to 25% of county electricity use by 2030 and 50% by 2040, using FY 2018 energy use as the baseline.  Several different approaches have been developed to meet these targets, which are summarized below.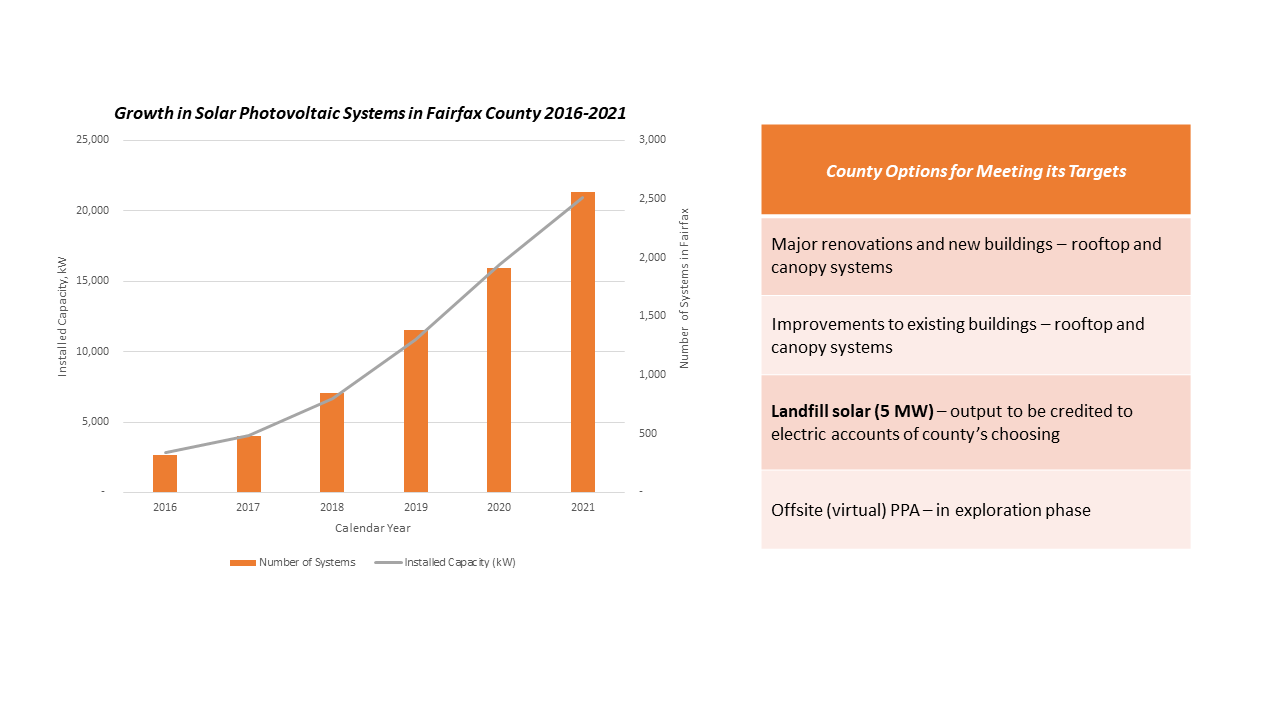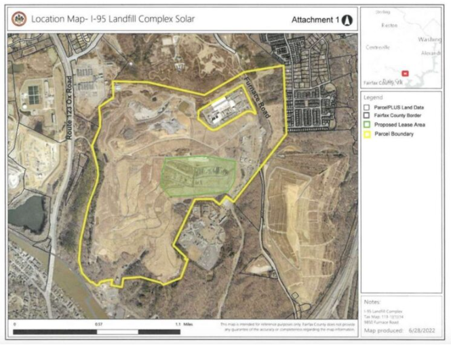 Solar Installation at Fairfax County's I-95 Landfill Complex
In 2022, the county leased about 40 acres of the county-owned closed I-95 landfill complex to Sun Tribe Solar to install, operate, and maintain an array of ground-mounted solar panels that will be capable of generating up to five megawatts (5 MW) of electricity. The facility is expected to be operational by the end of 2024.  
A SolSmart Gold Community

SolSmart is a national designation program funded by the U.S. Department of Energy's Solar Technologies Office that recognizes cities, counties, and regional organizations that foster the development of mature local solar markets.
Fairfax County was designated a "SolSmart Gold" community in 2019 in recognition of its long-standing efforts to encourage solar energy growth and remove obstacles to solar development. These efforts include the waiver of solar permit application fees, a solar energy equipment tax exemption, and support for Solarize Fairfax to help residents and businesses reduce the cost and complexity of investing in solar energy. 
 
Resource Recovered Gas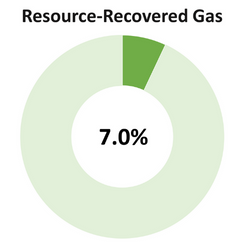 This CECAP strategy anticipates the replacement of a portion of the natural gas supply stream with resource-recovered gas, specifically landfill gas (LFG), wastewater resources, food waste, and non-biogenic municipal solid waste sources.  The term as used in CECAP does not include anaerobic digestion at livestock farms, energy crops, and forestry and wood products due to concerns that these biogas feedstocks may exacerbate environmental impacts.  Technologies are not yet widely deployed but broader implementation is expected in the coming decade.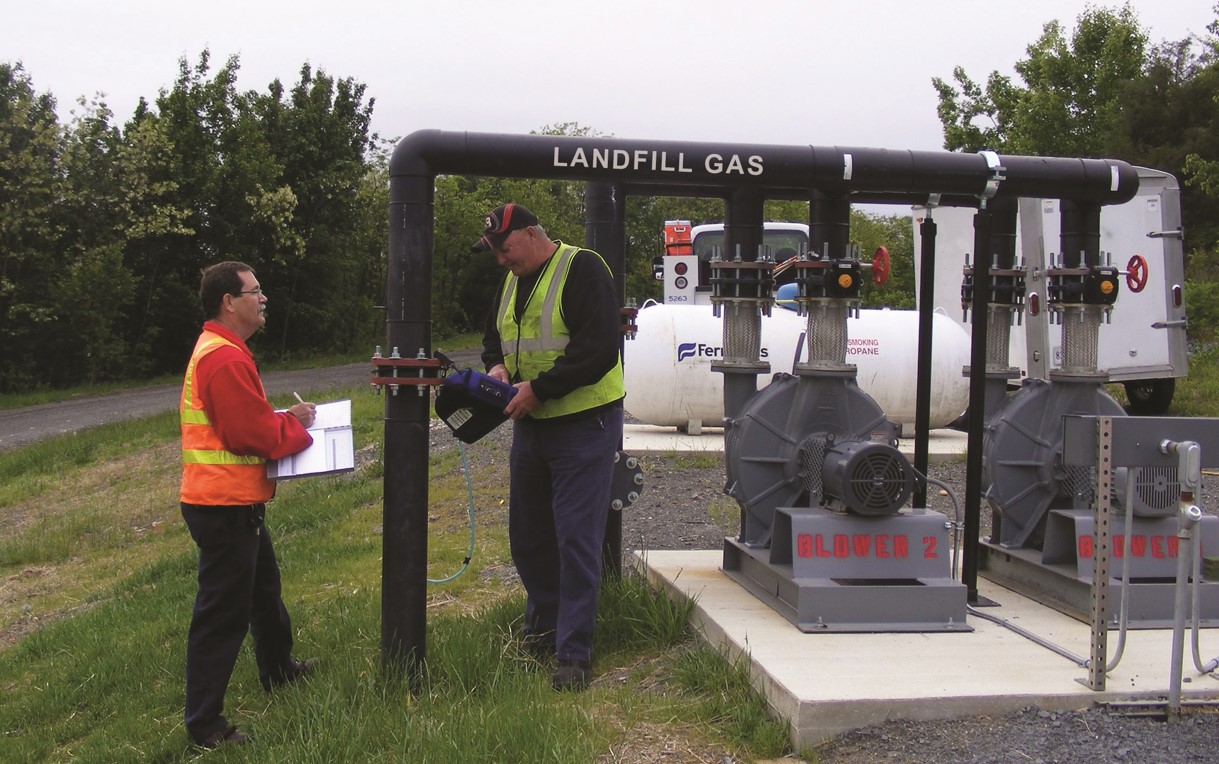 Fairfax County has been recovering LFG from its I-95 Landfill and I-66 Transfer Station sites since 1990, and in 2005 was designated the U.S. EPA's Landfill Methane Outreach Program Community Partner of the Year.  Currently, the county uses the LFG it captures to generate electricity for sale on the wholesale market and to incinerate bio-solids at the county's water treatment plant.  While LFG production has decreased over time, the gas remains a valuable renewable resource that reduces the need to purchase natural gas.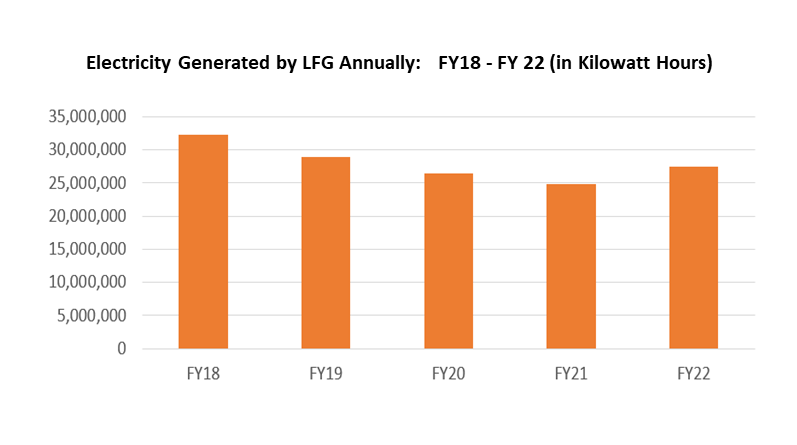 The Fairfax County community is embracing on-site solar generation, with the number of installed systems increasing year-over-year. Fairfax County currently hosts the most kilowatts of solar generation in the Northern Virginia region. 
The Solarize Fairfax program, managed by the Local Energy Alliance Program (LEAP), is an attractive option for both residents and businesses interested in on-site solar generation. Using a competitive process, LEAP solicits and evaluates proposals from local installers and selects one or more high-quality vendors that have committed to providing discounted prices to all program participants.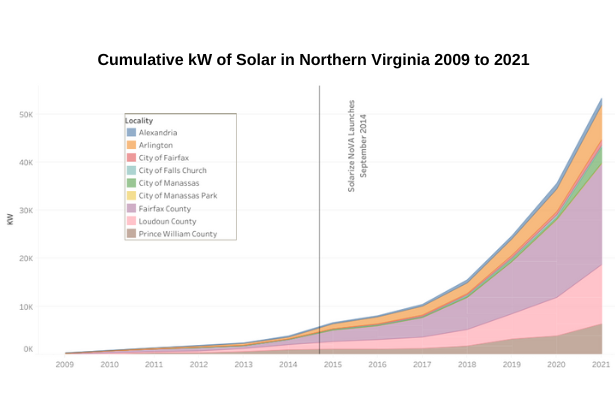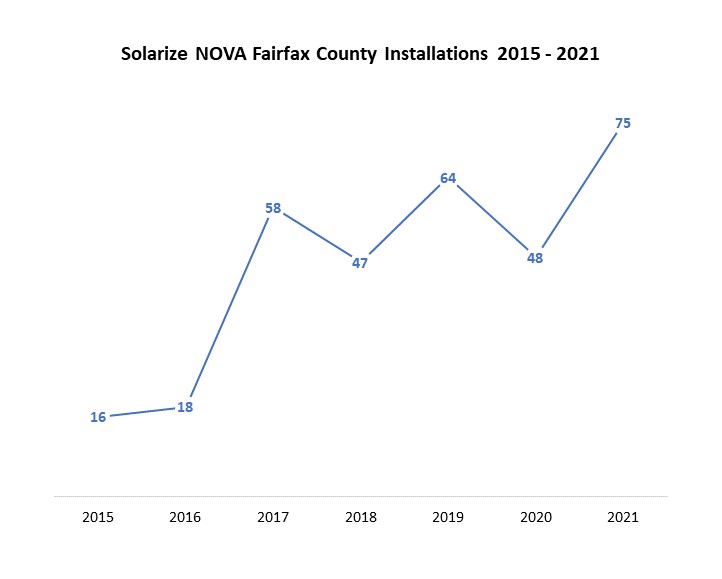 Fairfax County government is currently working on solar installations at multiple sites.  Solar should be installed on 6 county government facilities by the end of 2023 and installed on another 15 facilities in the 2024-2025 timeframe.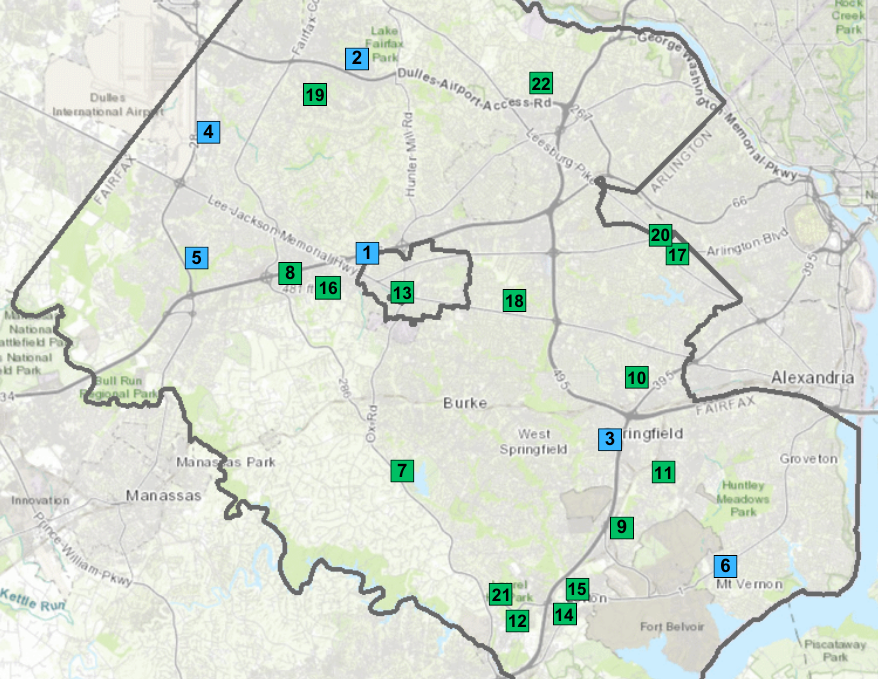 Numerous resources are available to property owners interested in exploring renewable solar energy generation for their homes or businesses. Selected resources are shown below.
A Good Candidate for Solar?
 
See how much sunshine falls on the roof of your home or business
 

 

 

Check Your Solar Potential 

Estimate both potential system sizes and electricity savings 
 

Learn about the Solarize program

The program typically opens in the Spring. 

 

 

Homeowner's Guide to Going Solar

One of many resources prepared by the U.S. Department of Energy's 
Solar Energy Technologies Office 

Solar Energy Equipment Tax Exemption 

Learn about the county's tax exemption for solar energy equipment