The Smoke Control record is required when building design includes smoke control systems and is used as a mechanism to submit the required documents for approval.  Smoke control systems approval is governed by the Special Inspections Program (SIP) per the Virginia Construction Code.  When the Rational Analysis Report, Third Party's Inspection Report, and Final Inspection Report have been approved, requirements for the Critical Structures record (which addresses all special inspection items) are met and subsequently the parent Building Record.
This information is the most common for how to obtain the necessary approval for your project and is not representative of all the conditions you may encounter.
WHO SHOULD APPLY?
If your building record is subject to Special Inspections (SI), a Critical Structures (CRIT) record and Smoke Control (FSMKC) record must be created to capture the three reports to be reviewed.
PLAN AHEAD
Before submitting your application, ensure you are aware of all applicable regulations and conditions that could affect your project.
Fairfax County Special Inspection Program (SIP)
Hire a registered professional engineer or a testing agency to perform the Special Inspections (SI).  An approved agency responsible for laboratory testing or special inspections, or both, is required. 
HOW DO I SUBMIT MY RECORD?
PLUS Application
Apply for your Smoke Control record online in PLUS under the Fire tab. If you are a first-time user, you must first register for an account.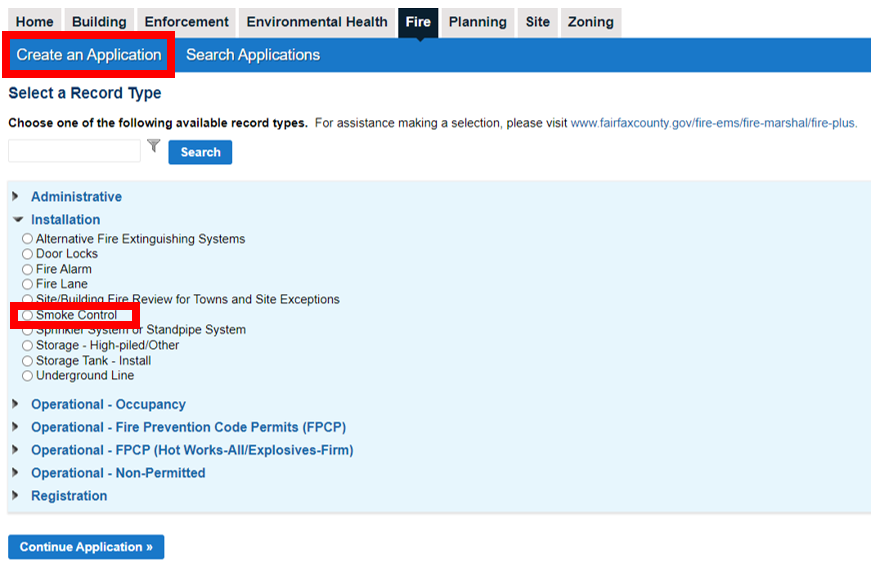 Instructional Video for PLUS
For step-by-step instructions to submit this record, click HERE.
Reference the parent or related building permit number for the Critical Structures record.
Upon submission, the record number provided will start with FSMKC.
Requirements
Once created, the FSMKC record will be listed in your PLUS account.  
Submission
Documents are not required at submission.
What's Next?
To get a step-by-step guide on PLUS statuses and what they mean, see our What is My PLUS Status? infographic.
Below are the necessary steps to follow after your application is accepted in PLUS.
County Review
Staff will review your package for completeness and relevancy to the Critical Structures number provided. You will be notified of any deficiencies.
Document Review
After your submission is processed and accepted, a notification will be sent requiring the Rational Analysis Report to be submitted.  
To do this, click on the Make Changes link under the Action column for the row associated with your record number. On the next screen, select the Required Documents Amendment record, then follow the submittal/upload processes as prompted.  Once created, the record will be listed as FRQDCA-FSMKC-YYYY-NNNNN in your PLUS account and linked to you original, submitted record.
Upon receipt, staff will process approval of the submission based on superficial review only.  A proper review will be reviewed by Engineering Plans Review.
Once the Rational Analysis Report is approved, a notification will be sent informing such and requesting the Third Party's Inspection Report be submitted next.  This process repeats itself for the Final Inspection Report.
When all three documents have been submitted and approved, the record will close, communicating internally to the critical structures team that dependencies here are complete.
Additional Resources