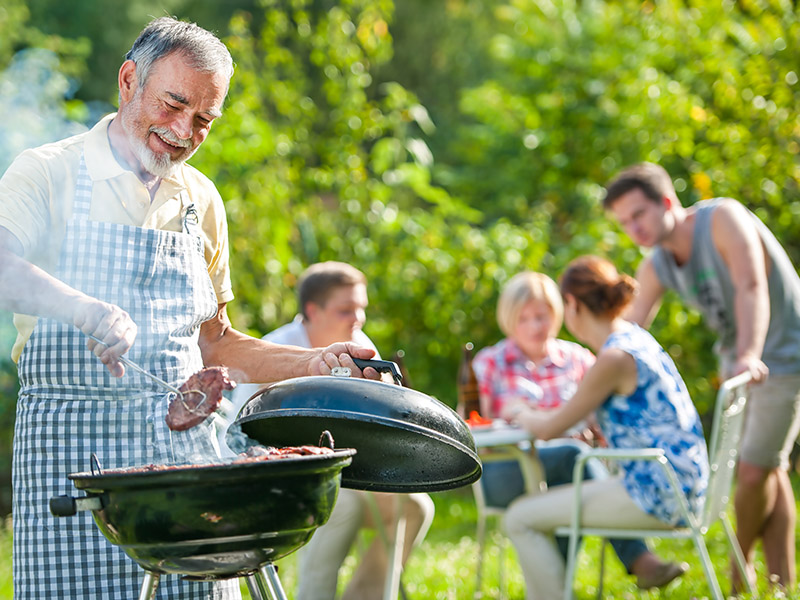 It's barbecue season! Before firing up your grill, find out what you can do to prevent harmful bacteria from multiplying and causing foodborne illness.
Keep cold food cold. Meat and poultry should be kept in the refrigerator until ready to use. When using a cooler, keep it out of the direct sun by placing it in the shade or shelter and avoid opening the lid too often.
Keep hot food hot. After cooking meat and poultry on the grill, keep it hot until served (at 140°F or warmer). Buy a meat thermometer and follow guidance for safe minimum cooking temperatures.
Completely thaw meat and poultry before grilling so it cooks more evenly. Use the refrigerator for slow, safe thawing or thaw sealed packages in cold water. For quicker thawing, you can defrost in the microwave if the food will be placed immediately on the grill.
Marinate food in the refrigerator, not on the counter. Do not use the same marinade you used for the raw food as the sauce for the cooked food. Keep a fresh portion aside for the sauce.
Don't use the same platter and utensils for raw and cooked meat and poultry. Harmful bacteria in raw meat and their juices can contaminate safely cooked food.
Refrigerate any leftovers promptly in shallow containers. Discard any food left out more than 2 hours (1 hour if temperatures are above 90°F). Find out the recommended storage times for all types of home-refrigerated foods.
For more safety tips, visit the U.S. Department of Agriculture's Grilling and Food Safety page.