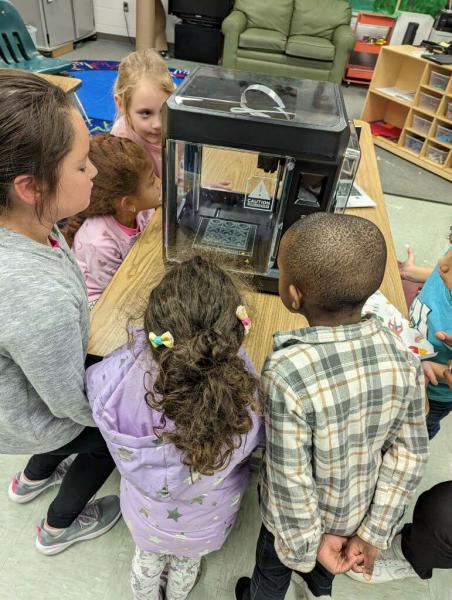 Fairfax County's Department of Neighborhood and Community Services has introduced 3D printers as an educational tool at all School Age Child Care (SACC) and Teen Technology Centers in the county. Makerbot Sketch 3D printers were installed at 144 SACC centers in February 2023. In addition, all 13 NCS Technology Centers now offer Makerbot 3D printers, providing expanded access to the same technology for students, families and other community members.
3D printing is an emerging technology that facilitates the creation of objects through material design. The printers will enhance the Science, Technology, Engineering, Art and Math (STEAM) component of the SACC curriculum by allowing students to develop design-oriented thinking through project-based learning, says Chris Scales, NCS Division Director. From printing fossils to creating custom chess pieces, the possibilities are only limited by imagination.
Each printer includes self-paced, online ISTE-certified training about the Makerbot and 3D printing concepts. It also includes a 3D Printing Curriculum Planning Guide that features benchmarks for measuring students' success, 600+ certified lesson plans from educators across the country, and additional 3D printing resources. Staff will also receive specialized training to ensure the highest level of usage at all centers. 
The technology initiative will include a yearly 3D Printing Maker Fair/Showcase, where program participants will have the opportunity to share their unique designs and receive recognition for outstanding innovations. 
"When astronauts need a new tool, scientists back on Earth can send them the code to print the tool on a 3D printer," Scales said. "That is the definition of problem-based learning. NCS is proud to provide our youngest participants with access to this same emerging technology that will encourage exploration, expand digital literacy and empower students to compete in an increasingly digital economy."  
The Fairfax County Department of Neighborhood and Community Services partners with communities, families and individuals to provide opportunities to access a continuum of resources that promote equity and create positive outcomes for people of all ages and abilities. Both SACC and Technology Programs are managed by NCS.
Contact Name
Cristin Bratt
Contact Information
Cristin.Bratt@fairfaxcounty.gov