8800 Richmond Highway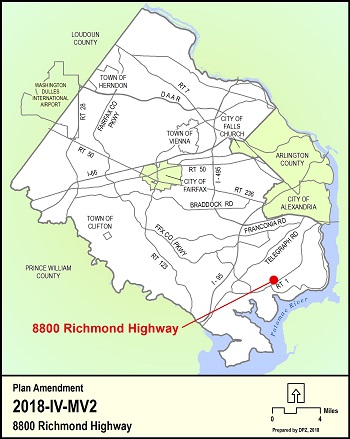 2016 Proffer Reform Bill - Non Exempt Area
PLUS Record Number:
PA-2020-00008
Tax Map Parcel:
109-2((1))18C, 19 and 20
Supervisor District:
Mount Vernon
Planning District:
Mount Vernon
On March 6, 2018 the Board of Supervisors authorized the consideration of a Comprehensive Plan amendment for 8800 Richmond Highway (Tax Map parcels 109-2((1))18C, 19 and 20) in the Mount Vernon Planning District, Mount Vernon Supervisor District.
The adopted Plan for this area recommends private open space. The Board requested that staff consider residential use up to 8 dwelling units per acre for Tax Map parcels 109-2((1))18C, 19, and 20. Particular elements to be considered by the Plan amendment include evaluating the proposed density for; (1) the ability to achieve full parcel consolidation; (2) conformance with Policy Plan Guidance that addresses disturbances to Environmental Quality Corridors (EQC) including the demonstration of any circumstances meriting disturbance to the EQC – mitigation/compensation measures would be provided to result in a net environmental benefit to the parcels and net benefits relating to most, if not all, of the purposes of the EQC policy that are applicable to the proposed disturbances.
Click on the map (above) for a detailed enlargement of the area.