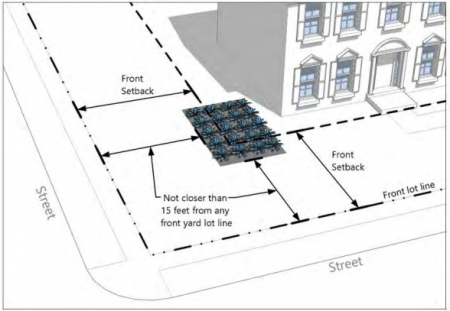 Zoning Ordinance Amendment (ZOA) 19-481 was adopted by the Board of Supervisors (the "Board") on June 25, 2019, to address growing trends, locally and nationally, for a greater connection to our food and, in turn, small-scale, local food production. This amendment focused on three key areas, creating a new process for establishing community gardens, broadening the locations and standards for operating a farmer's market, and allowing gardening as a permitted accessory use in the front yard of single-family dwellings, subject to certain standards.
Gardening was and is permitted in the side and rear yards of any residentially zoned single-family lot, without size or location restriction. ZOA 19-481 established that front yard gardens be permitted as an accessory use on all single-family residential lots. The regulation of front yard gardens by ZOA 19-481, provides specific size and location standards, while also supporting community demand for fresh and accessible home-grown foods. As part of the Zoning Ordinance Modernization Project (zMOD), staff carried forward the adopted regulations regarding front yard gardens and added the following definition of gardening:
Gardening and Composting
An area of cultivated ground or a structure such as a planter box, pot, or raised bed, devoted in whole or in part to (1) the growing of herbs, fruits, or vegetables for consumption, or (2) composting.
All front yard gardens are subject to area and location regulations stated in subsection 4102.7.A (General Standards for Freestanding Accessory Structures) and depicted in Figure 4102.4 of the Zoning Ordinance.
Related Resources