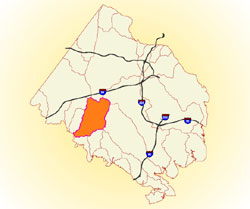 Location
Popes Head Creek is a 19-square-mile watershed on the southern edge of Fairfax County that drains to the Occoquan River.
Major Streams and Tributaries
East Fork, Piney Branch and Castle Creek
Unique Features
This watershed is home to Hemlock Overlook Regional Park and the Audubon Naturalist Society's Webb Sanctuary. Popes Head Creek is a major tributary of Bull Run and the Occoquan River, which provides drinking water to more than half of Fairfax County. This watershed is under the jurisdiction of Fairfax County, except in the Town of Clifton and a small part of the City of Fairfax
Popes Head Creek Watershed Management Plan
The Popes Head Creek Watershed Management Plan was adopted by the Board of Supervisors on Jan. 23, 2006.
Appendicies
Several projects have been completed or are under development from the watershed plan. Please see the project list website for a list of these projects.
For additional information, please email the Stormwater Planning Division or call 703-324-5500. , TTY 711