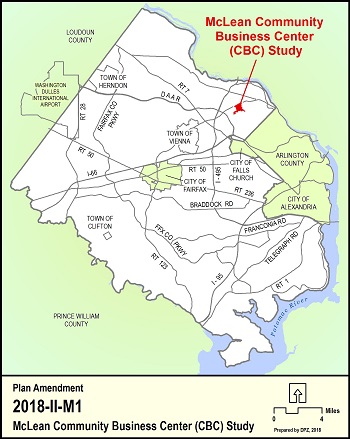 2016 Proffer Reform Bill - Exempt
In an effort to reimagine the vision for downtown McLean, also known as the McLean Community Business Center (CBC), Fairfax County kicked off the McLean CBC Study in May 2018 with a community visioning process. Community input from the visioning process workshops and guidance from design and planning firm Streetsense resulted in the creation of a Vision Plan which was finalized in December 2018. The Vision Plan is the framework for considering changes to the current Comprehensive Plan recommendations for the CBC.
County staff has been working closely with Task Force members and the community at regular meetings to discuss recommended changes to the Comprehensive Plan for the McLean CBC, using the Vision Plan as a primary guide. Staff and the Task Force reviewed submissions that were received for the CBC as part of their work. Task Force discussions on new draft Plan text began in February 2020. The recommendations will continue to be discussed at Task Force meetings in the months to come. Those who live or work in downtown McLean and the surrounding area are highly encouraged to get involved and share feedback on the proposed changes to the Comprehensive Plan for the McLean CBC.  
Click on the map (above) for a detailed enlargement of the study area.