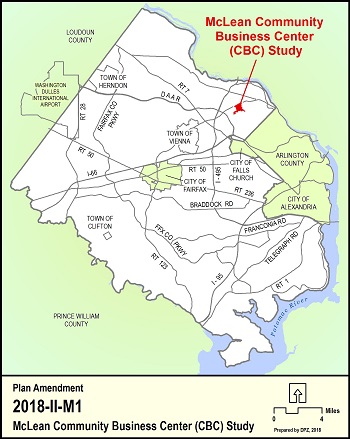 On April 10, 2018 the Board of Supervisors authorized a Comprehensive Plan (Plan) amendment to review the recommendations for the McLean Community Business Center (CBC).
The McLean CBC Study (Plan Amendment 2018-II-M1) will review recommendations for future land uses, development intensities, transportation, public facilities and urban design within the CBC. The last full review of the Comprehensive Plan recommendations for the CBC occurred in 1998, and the community and the county recognized the need to update the Plan recommendations.  The McLean CBC is approximately 230 acres and is centered around the intersection of Old Dominion Drive and Chain Bridge Road and is located south of Dolley Madison Boulevard (Route 123).
Click on the map for a detailed enlargement of the area.