2550 Huntington Avenue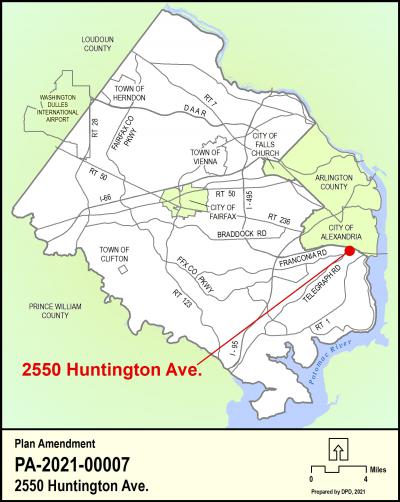 2016 Proffer Reform Bill - Non Exempt
PLUS Record Number:
PA-2021-00007
Tax Map Parcel:
83-1 ((1)) 34D, 34E and 34F
Supervisor District:
Mount Vernon
Planning District:
Mount Vernon
On January 26, 2021, the Board of Supervisors authorized the consideration of a Comprehensive Plan amendment at 2550 Huntington Avenue, Alexandria, Tax Map Parcels 83-1 ((1)) 34D, 34E and 34F, and consists of approximately 6 acres of land in the Mount Vernon Planning District, MV-1 Huntington Community Planning Sector, Land Unit G of the Huntington Transit Station Area, Mount Vernon Supervisor District. The Huntington Metrorail Station is situated diagonally across Huntington Avenue from the site. The subject area is currently developed with approximately 360 multifamily residential units and structured parking. The area is also entitled for an 260,000 SF office building and 200 room, 110,000 SF hotel building on the portion of the site currently used for an interim park space. The adopted Plan for the subject property recommends mixed-use development including residential use, which should comprise 50% of the total square footage, office use with ground floor retail use and/or hotel use at an intensity of 2.0 - 3.0 floor area ratio (FAR) and is zoned PRM Planned Residential Multifamily District. 
The Board requested that staff consider a revision to the adopted plan option to remove or modify the limitation on residential development on the subject site. The study should evaluate the viability of the office market in the Huntington and North Gateway area in developing any recommendation to decrease non-residential use on the site. The amendment should include staff review of the adopted watershed plans and include appropriate recommendations as part of the staff analysis. Staff is requested to review the proposed plan against adopted plan guidance. 
Click on the map (above) for a detailed enlargement of the area.