7700 Leesburg Pike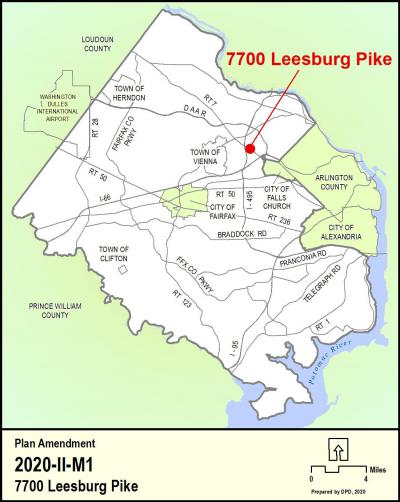 2016 Proffer Reform Bill - Non Exempt Area
Adopted On:
October 19, 2021
PLUS Record Number:
PA-2020-00029
Tax Map Parcel:
39-2 ((1)) 57
Supervisor District:
Dranesville
Planning District:
McLean
On October 19, 2021, the Board of Supervisors adopted an amendment to the Comprehensive Plan adding an option for residential use up to a density of 12-16 dwelling units per acre (du/ac) on 7700 Leesburg Pike (Tax Map Parcel 39-2 ((1)) 57), in the McLean Planning District and Dranesville Supervisor District., subject to conditions.
On September 15, 2020, the Board of Supervisors authorized the consideration of a Comprehensive Plan amendment for the 6.7-acre subject site which has an adopted Plan recommendation for Office use and is currently developed and operating as professional offices and a nursing college.  The Board requested that staff consider Residential uses at a density of up to 12-16 dwelling units per acre with single-family attached dwellings and to include the provision of high-quality open space on the subject property as a priority. The authorization also directed staff to review this this Plan Amendment concurrently with the review of an application to rezone the property, RZ/FDP-2021-DR-006.
Click on the map (above) for a detailed enlargement of the area.
---
Related Documents