7700 Leesburg Pike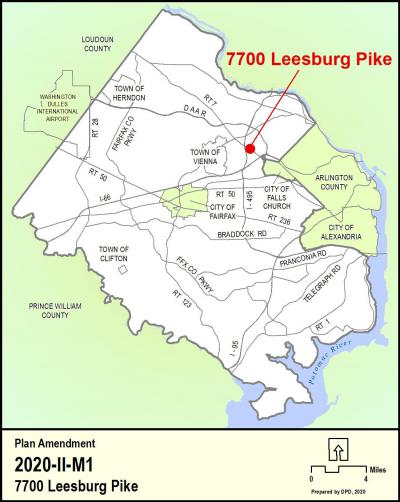 2016 Proffer Reform Bill - Non Exempt Area
Tax Map Parcel:
39-2 ((1)) 57
Supervisor District:
Dranesville
Planning District:
McLean
On September 15, 2020, the Board of Supervisors authorized the consideration of a Comprehensive Plan amendment for 7700 Leesburg Pike (Tax Map Parcel 39-2 ((1)) 57) in the McLean Planning District, Dranesville Supervisor District.
The adopted Plan for this site recommends Office use. The 6.7-acre site is currently developed and operating as professional offices and a nursing college. The Board of Supervisors requested that staff consider Residential uses at a density of up to 12-16 dwelling units per acre with single-family attached dwellings and to include as a priority for consideration the provision of high-quality open space on the subject property. The Board also directed staff to review this this Plan Amendment concurrently with the review of an application to rezone the property, once such an application has been submitted.
Click on the map (above) for a detailed enlargement of the area.