Holmes Run Acres Historic Overlay District (HOD)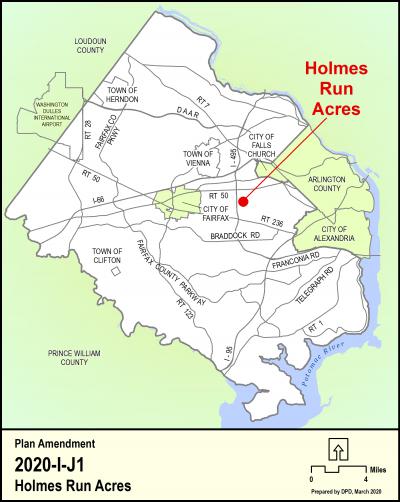 Rescinded on:
November 1, 2022
PLUS Record Number:
PA-2020-00024
Supervisor District:
Mason
Planning District:
Jefferson
On November 1, 2022, the Board of Supervisors rescinded the authorization for the Holmes Run Acres HOD comprehensive plan amendment.
On January 14, 2020 the Board of Supervisors authorized the consideration of a Comprehensive Plan amendment for Holmes Run Acres in the Jefferson Planning District, Mason Supervisor District.
The Holmes Run Acres neighborhood, located east of the intersection of Gallows Road and Interstate-495 (Capital Beltway) was added to the Fairfax County Inventory of Historic Sites in 1977 and listed in the National Register of Historic Places in 2007. The Board requested that staff evaluate the potential establishment of an Historic Overlay District for Holmes Run Acres, which will include analysis and recommendations on the historic and architectural significance, as well as boundaries for the potential creation of a historic overlay district for the subject area. There are no changes to the current planned land use. In addition to a potential Comprehensive Plan Amendment, staff will also be drafting a potential Zoning Ordinance Amendment as well as a rezoning application for the addition of the historic overlay district, if approved by the Board of Supervisors.
Click on the map (above) for a detailed enlargement of the area.