Huntington Metro Station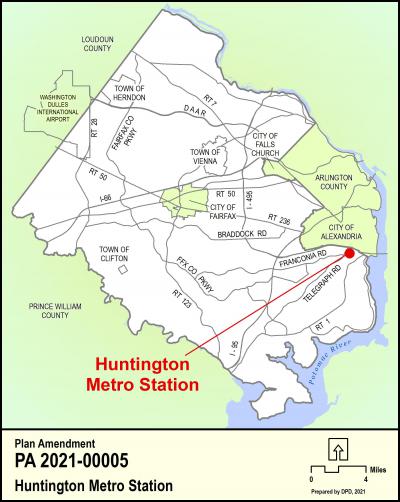 2016 Proffer Reform Bill - Non Exempt
PLUS Record Number:
PA-2021-00005
Tax Map Parcel:
83-1 ((1)) 17E and 88D1, and 83-1 ((7)) 1A
Supervisor District:
Mount Vernon
Planning District:
Mount Vernon
On January 26, 2021, the Board of Supervisors authorized the consideration of a Comprehensive Plan amendment on Tax Map Parcels 83-3 ((1)) 88D1 and 83-1 ((1)) 17E in the Huntington Transit Station Area to evaluate a plan option for Mixed-use up to 1.5 Floor Area Ratio (FAR)[1.8 million square feet (sf)], including: public facilities for Huntington Metrorail Station, 360,000 sf office/retail use, and 2,250-2,350 dwelling units on subject parcels in low, mid, and high-rise buildings between 55 and 200 feet in height. Parcel 83-1 ((7)) 1A is recommended to be included in the planning study in order to effectively coordinate with this residual, undeveloped parcel also in Land Unit E. The amendment should include staff review of the adopted watershed plans and include appropriate recommendations as part of the staff analysis.
On July 11, 2021, the Mount Vernon SSPA Task Force voted to recommend a Comprehensive Plan amendment for the site. The Task Force recommended plan text is also available.  
Click on the map (above) for a detailed enlargement of the area.