Innovation Center Station [North], Dulles Suburban Center, Land Units L-1 and L-2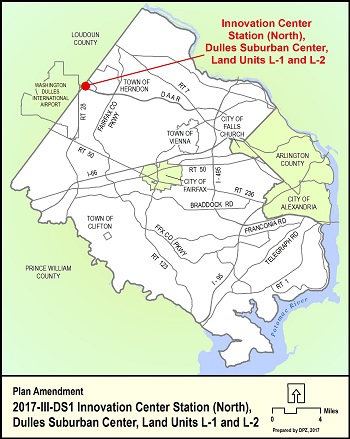 Adopted on:
December 4, 2018
2016 Proffer Reform Bill - Exempt Area
Tax Map Parcels:
15-2((1)) 4, 5, 15, 16 and 17
Supervisor District:
Dranesville
On October 24, 2017 the Board of Supervisors authorized the consideration of a Comprehensive Plan amendment for the Innovation Center Station (North), Land Unit L-1 and Land Unit L-2 of the Dulles Suburban Center (Tax Map Parcels 15-2((1)) 4, 5, 15, 16 and 17), Dranesville Supervisor District.
The adopted Plan amendment provided an increase to the current recommended FAR limits in the "Core Area" (shown in the staff report), consistent with other Silver Line Metrorail stations in the Reston-Dulles corridor; evaluated a land use mix option that includes office as the predominant use; and identified needed improvements to public facilities in the area, including fire, police, schools and transportation. The amendment proposed an additional option for a mix of uses, comprised of predominantly office use with hotel and support retail uses, at an intensity up to 4.0 FAR.
Click on the map for a detailed enlargement of the area.
Related Documents