Inova Springfield HealthPlex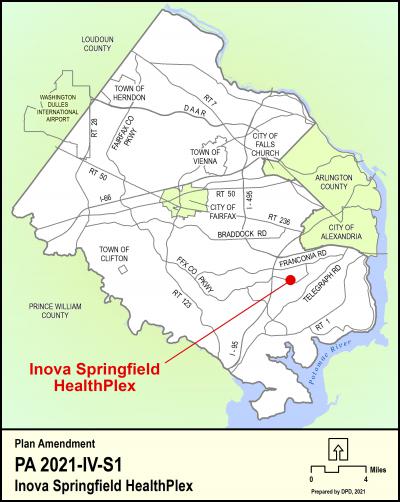 2016 Proffer Reform Bill - Exempt Area
Adopted On:
June 28, 2022
PLUS Record Number:
PA-2021-00012
Tax Map Parcels:
91-1 ((4)) 1, 1A, 2, 2A, 3, 3A, 4, 4A, 5, 5A, 6, 6A, 7, 7A, 8, 8A, 9, 9A, 10, 10A, 11, 11A, 13, 13A, 14, 14A, 15, 15A, 16, 16A, 17, 17A, 18, 18A, 19, 19A, 20, 20A, 21, 21A, 22, 22A, 23, 23A, 24, 24A, 25, 500, 500A, and 501; 91-1 ((1)) 11A; and 91-1 ((32)) 1
Supervisor District:
Franconia
Planning District:
Springfield
On February 9, 2021, the Board of Supervisors authorized the consideration of a Comprehensive Plan amendment for the Inova Springfield HealthPlex and the former Liberty View site in the Franconia Supervisor District.
The subject properties are planned within Land Units S and U of the Franconia-Springfield Transit Station Area, in the Springfield Planning District of the Area IV volume of the Comprehensive Plan. The adopted Plan recommends up to 296,000 square feet of medical care, medical office, and ancillary uses on Land Unit S, where the existing Inova Springfield HealthPlex is located, and an option for office and hotel uses up to 1.5 floor area ratio (FAR) on Land Unit U, the former Liberty View development. The Board requested that staff consider an expanded hospital, medical office, and related ancillary uses on the subject properties. With this amendment, the current planned intensity for Land Unit U would not change. An increase in the intensity for the 8.16-acre portion of Land Unit S that is the Inova HealthPlex should be considered up to a 1.5 FAR.
Click on the map (above) for a detailed enlargement of the area. 
---
Related Resources