Due to the inclement weather this season, Fairfax County's Vacuum Leaf Collection is delayed by about one week. We are still collecting leaves and will continue to do so until all areas have received their third pick-up.
Fairfax County provides vacuum collection of leaves from the curb three times each season to a portion of the residences located in Fairfax County Solid Waste Collection Areas. (The solid waste collection areas are established through a petition process. Vacuum collection areas require an additional leaf petition process.) For more information, see the links below as well as our frequently asked questions. If you need additional information, call one of our customer service representatives at 703-802-3322, TTY 711. They are available to assist you Monday - Friday, 7:30 a.m. - 4 p.m.
Vacuum leaf collection is managed by the Solid Waste Management Program. Our crews work with private contractors to provide adequate personnel and vehicles for leaf collection operations. You will see these contract crews in your neighborhood operating the vacuum leaf collection equipment.
The county's vacuum equipment performs three functions: vacuuming, leaf blowing and mulching. As leaves pass through the fan or impeller, they are ground into mulch. When items other than leaves (i.e., rocks, bottles, tree limbs) pass through, the fan or motor can be damaged.
In addition to costly equipment repairs, excess debris can injure our crews and result in scheduling delays. We work with you, our customers, to provide an efficient, economical service schedule. You can help us by making sure there are no additional items mixed in with the leaves. Detailed set-out requirements follow.
Set-Out Information
The Leaf Collection Program is for leaves only. Leaves mixed with brush, rocks, tree trimmings, sticks or trash, etc., will be left behind.
Place the leaves no further than four feet from the edge of the streetline.
Please remove all debris from leaves prior to set-out.
Leaves raked out after the last scheduled round of collection will not be picked-up.
Do not block streets or pile leaves over storm drains or ditches.
Do not block leaf piles with cars or any type of equipment that could limit our accessibility to the pile or create hazardous conditions.
Do not park vehicles on piles of leaves -- this is a fire hazard!
Help Us Serve You Better
Please remember to rake your leaves out in advance of the timeframe we are estimated to be in your area.
Follow the Set-Out Information guidelines
Keep up with your leaves; it could snow!
Call the Trash/Leaf Collection Office if you have additional questions or concerns.
Customer Service is available Monday - Friday, 7:30 a.m. - 4 p.m. by calling 703-802-3322, TTY 711.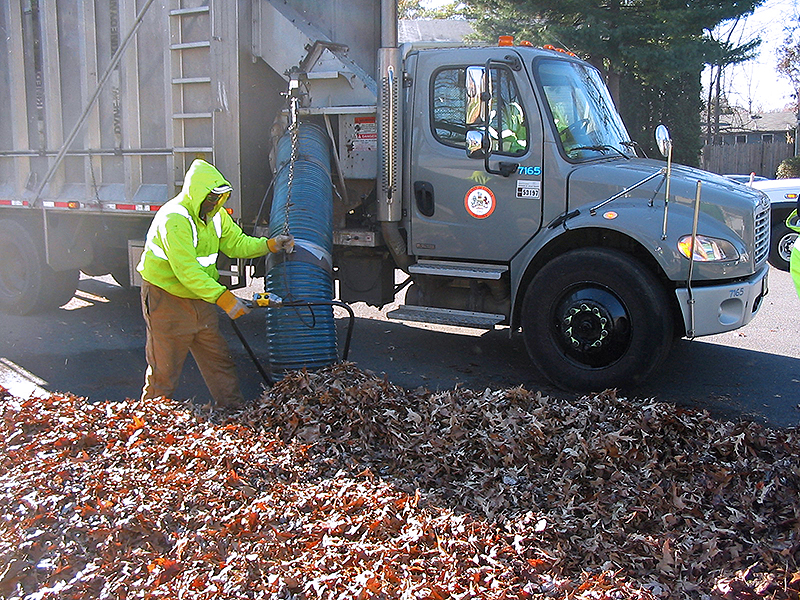 Once leaves are vacuumed from neighborhood streets, they are taken to Pine Ridge Park on Woodburn Road. There, they are ground into mulch and distributed to various public sites around the county. Free leaf mulch is available for pickup while supplies last. You will need your own tools for loading and transporting the mulch. For information on mulch locations, visit Free Mulch.
For the safety of our crews and vehicles we have a Severe Weather Policy. In case of severe weather, collection dates may be adjusted. If weather-related delays occur, we assure you that the leaves will be picked up as soon as possible. It is not necessary to make a customer service call. We appreciate your patience.
More About Recycling and Trash