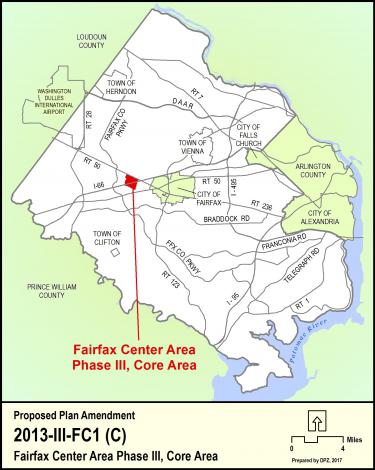 2016 Proffer Reform Bill - Exempt
PLUS Record Number:
PA-2020-00007
The Fairfax Center Area Study (Plan Amendment 2013-III-FC1) is a multi-phase planning study to examine the Comprehensive Plan guidance for the Fairfax Center Area. The Fairfax Center Area comprises approximately 5,500 acres west of the City of Fairfax and east of Centreville, generally between Lee-Jackson Memorial Highway (Route 50) and Lee Highway (Route 29). Phases I and II of the study have been completed.
Phase III of the study (Plan Amendment 2013-III-FC1(C)) was authorized by the Board of Supervisors as a follow-on motion to the adoption of Phase II, on December 6, 2016. Phase III focuses on reviewing the Plan guidance for the Core Area of the Fairfax Center Area Suburban Center, which includes Land Units A and B. This phase follows up on the work of Phase II, which included the development of a Core Area Vision, by conducting a transportation analysis of the Core Area and refining the transportation, land use mix and intensity recommendations for this area.
Click on the map for a detailed enlargement of the area.