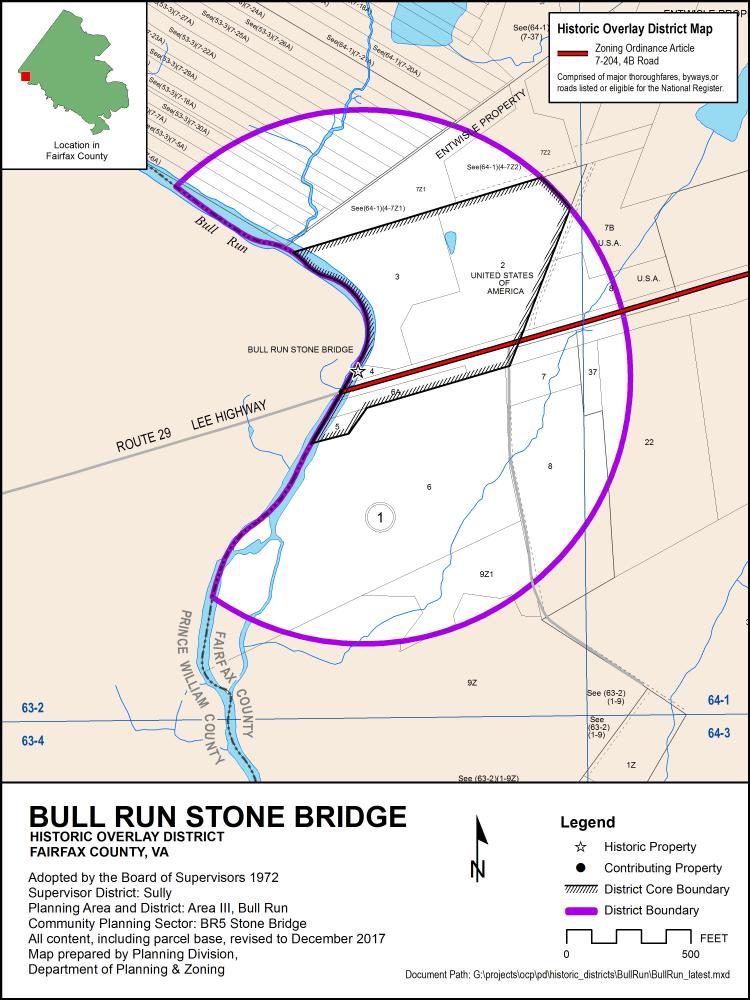 The stone bridge crossing Bull Run was twice the scene of major battles in the Civil War. On July 21, 1861, Confederate troops, defending Manassas Junction and its railway, defeated a larger contingent of Union troops, forcing them to retreat back across the stone bridge. This battle, known as the Battle of Manassas or Bull Run, was the first major battle of the Civil War and the Northern defeat shocked the Union. Before the battle, Union supporters were so overconfident that many sightseers came from Washington with picnic lunches to watch the expected rout of the Confederate forces. A few months later Confederate forces destroyed the center span of the bridge which Union engineers then replaced with a wood span.
On August 29 and 30, 1862, the opposing armies met again at Bull Run in part of Lee's campaign to invade the North. The battle raged for two days, and again the Union forces were forced to retreat across the bridge, which they destroyed behind them on August 31, 1862.
In 1886 the bridge was rebuilt. In 1926, the road crossing Bull Run, Route 29-211, the old Warrenton Turnpike, was realigned south of the old bridge, which was closed to traffic. The federal government purchased the stone bridge in 1959 and restored it as part of its centennial celebration of the Civil War. Today, the bridge is part of the Manassas National Battlefield Park, most of which is in Prince William County, and is administered by the National Park Service.
---
Related Resources
Bull Run Stone Bridge Aerial Map
Bull Run Stone Bridge Design Guidelines