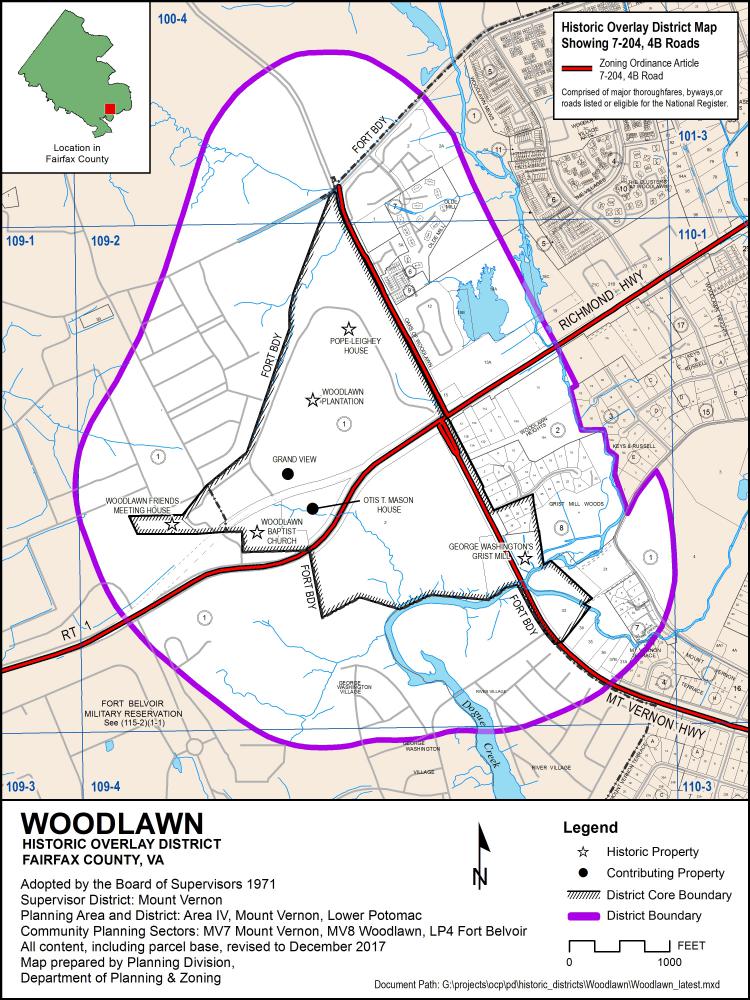 A study commissioned by the National Trust for Historic Preservation, Woodlawn Pope-Leighey House Comprehensive Development Plan (Wehnere, Nowysz, Pattschull and Pfiffner Architects: 1986) states that: The history of Woodlawn is a composite story dating back to the middle of the 18th century, and is by no means restricted to the 126-acre area in the current National Trust historic site. The five historical periods are: 1) 1754-1799, Dogue Run Farm; 2) 1800-1846, Lewis Period; 3) 1847-1900, Quakers and Mason Period; 4) 1901-1948, Country House Period; and 5) 1948-1980, Public Ownership.
Woodlawn was built between 1800 and 1805 for Lawrence Lewis and Nelly Custis Lewis on land given to them by George Washington, which had been part of his Dogue Run Farm. Washington selected the house site because of the tremendous view. William Thornton, the first architect of the U.S. Capitol, is believed to have designed the Federal-style brick house. The National Trust for Historic Preservation purchased the house and surrounding acres in 1951. It was placed on the National Register in 1968.
The Lewis's sold the property in 1846 to the Troth-Gillingham Company, a group of New Jersey and Pennsylvania Quakers, which purchased the land for its fine timber. The mansion served as their business headquarters and temporary residence while houses were built. Two buildings survive from that period-the Woodlawn Friends Meeting House (c. 1853) and Grandview (1859). In 1850 the mansion and its remaining acreage was sold to John Mason. His family built the Woodlawn Baptist Church (1812) and the Otis Mason House (date unknown). The congregation of the Baptist church first met in the Woodlawn parlor, as did an early integrated school. These buildings are part of the historical development of the land.
The last two buildings within the district core provide examples of developing strategies of historic preservation. In 1932, to commemorate the bicentennial of Washington's birth, the George Washington Grist Mill was reconstructed at or near the original mill site on the Mount Vernon Memorial Highway, which connects Woodlawn and Mount Vernon. The Pope-Leighey House was moved from its original site in Falls Church in 1964 and rebuilt on the National Trust's Woodlawn property to protect it from demolition. It is the only fully documented Frank Lloyd Wright Usonian house in the country.
---
Related Resources
Woodlawn Plantation/Pope-Leighey House Historic Overlay District Aerial Map
Woodlawn Plantation/Pope-Leighey House Historic Overlay District Guidelines