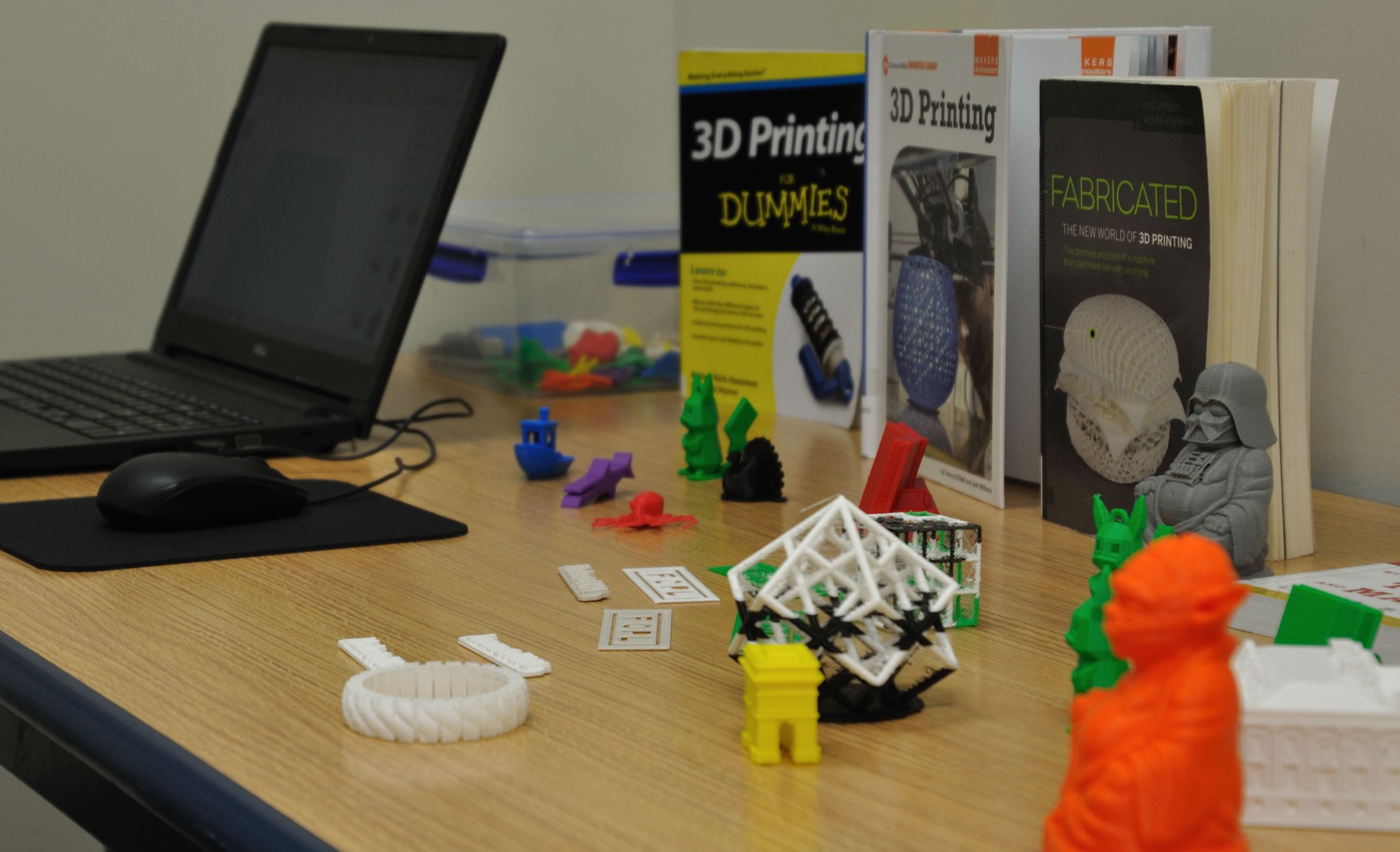 Use this step-by-step how-to guide to navigate the process from beginning to end.
3D printing can seem intimidating if you have never tried it before. Do not fear! Follow these instructions and tips to get started creating your own projects.
Begin With Existing Designs
A popular way to submit a 3D print project is to use an existing shared design.
The Thingiverse.com design community for discovering, making and sharing 3D printable things features an extensive library of items, from fashion accessories and automotive supplies to toys and gadgets — all for free. Browse through featured collections or search to find something specific. Once you have located your design, click on "Thing Files" below the item images and download files in .stl or .obj format.
Submit to Print
Go to our online 3D Printing guide to submit the file you downloaded. If you have special requests, such as what color to use, add them to the comment box. Please only submit one file per week to help keep this service available and free for all library users.
Want a preview of the process before clicking that "submit" button? Watch the "3D Print at Your Library" video on FCPL's YouTube channel for a complete demo. Email LIB3DPrinting@fairfaxcounty.gov to ask staff any other questions.
Learn to Create
If you're interested in crafting your own design, create a free account on Tinkercad.com to access the easy-to-use app for 3D design, electronics and coding. Once logged in, click on "Create New Design" to begin building a 3D print and create whatever you can imagine — from a character or thing you can't find on Thingiverse to a personalized gift or custom-fit household item.
Find free tutorials for how to use Tinkercad on YouTube and on Lynda.com for Libraries using your library card. Search Lynda.com for "3D printing" to see the list of videos and courses available, including one for designing replacement parts to fix household appliances and furniture (like a broken oven knob or draw pull).
Collect the Final Product
Once you submit your project to FCPL, staff will notify you when the print is ready and you can collect it at the branch you selected. Now all that's left is to enjoy the fun, practical or purely creative joy of your 3D-printed item!
One Last Tip
Zip files can't be uploaded (only STL, THING or OBJ formats are accepted) — so be sure to unzip before submitting your online 3D Printer File Submission Form!