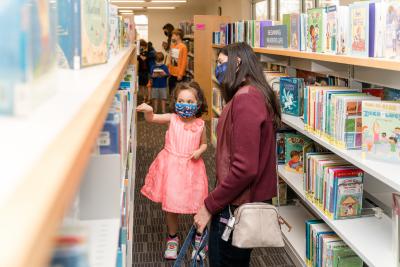 Fairfax County Public Library (FCPL) branches reopened their doors to customers Monday morning after two months of curbside pickup and virtual services only.
At Reston Regional Library, customers were waiting at the door when branches opened at 10 a.m.
Elizabeth O'Malley, a Vienna resident, browsed the "hot picks" section toward the front of the library. "I've done some [curbside] pickup but I've missed the library," she said.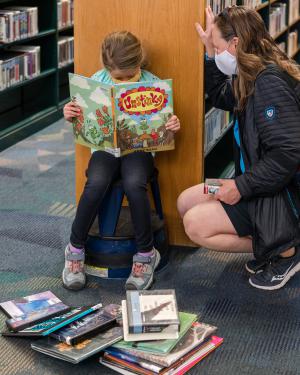 Five-year-old Claire Dawson perched on a stool along the stacks, surrounded by her book choices.
"We were very excited to come today, it's a great library," said Claire's grandmother, Barbara Canody.
Claire wanted scary books. "I like scary like Halloween," she said. Their family also loves using FCPL's eBook offerings and other materials, Canody said. Claire also picked out some Disney DVDs, including "Sleeping Beauty."
By day's end, 379 people had visited the Reston branch.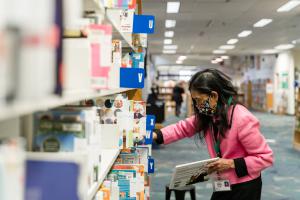 Library staff members are as excited to have customers back inside as the customers are to browse the stacks. Wanla Freer has worked at Reston Regional Library since 1994. Earlier this month, the FCPL Board of Trustees presented her with the annual Staff Excellence Award, which is based on customer nominations.
"This is the happiest day," Freer said of Monday's reopening. "This is my home. Everybody knows me, and I know them."
Sujatha Perakalapudi, another Staff Excellence Award winner, was happy to see customers again. "I like to talk with new people every day and help our community," she said.
Across the county at Martha Washington library, Branch Manager Cathy Noonan accepted gifts and thanks from the Mount Vernon Rotary Club.
The library and its services offered "a refuge, a place of peace" during the pandemic, said Mount Vernon Rotary President Helen Walutes.
"I like to talk with new people every day and help our community."
Martha Washington library also did brisk business Monday, with about 200 customers stopping by to check out materials.
Hannah Dorr browsed for new books with her mother and grandmother. Hannah had missed visiting the big stuffed owl that decorates Martha Washington's children's section, her mother said. While Hannah loves Dora the Explorer, she also discovered new books in grab bags put together by Martha Washington's librarians for curbside pickup while the branches were closed, said her mother Jennifer.
Though staff has worked throughout the pandemic putting together virtual programming, checking in books, filling curbside requests and more, Charlotte Reineck missed the bustle of customer activity, she said. Reineck, the page manager at Martha Washington, is another Staff Excellence Award winner. On Monday she was checking in and reshelving books.
"I like creating order out of chaos and establishing relationships with patrons, the regulars," she said.
FCPL library branches are open for interior Express Service Monday and Tuesday 10 a.m. to 8 p.m. and Wednesday through Saturday 10 a.m. to 6 p.m. 
Curbside services continue to be offered Monday through Saturday 10 a.m. to 4 p.m.