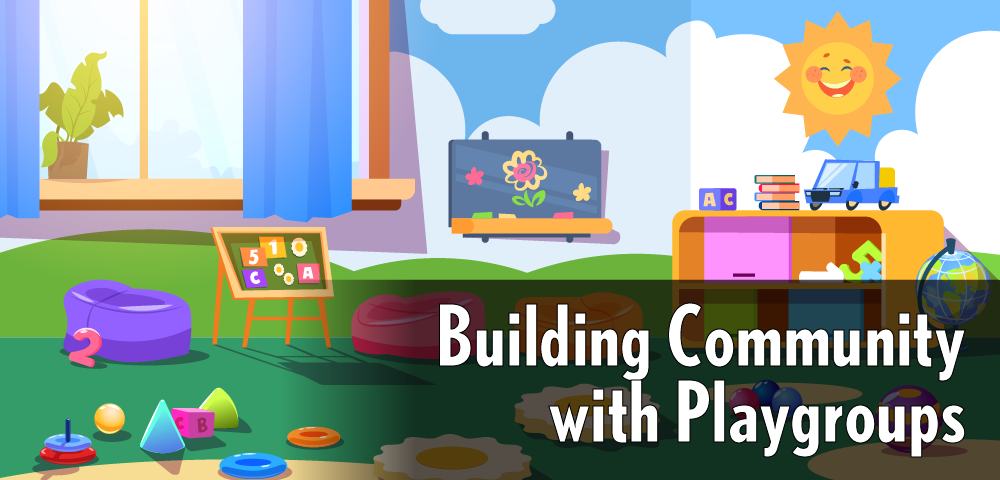 ---
By Charlotte Frank, FCPL Early Literacy Assistant
---
Spring is here, and the weather is perfect for preschoolers to play outside, especially when it includes a friend or two. Whether children play with one pal or many, they will reap countless rewards from joining a community playgroup.
Playgroup relationships help toddlers and preschoolers with social skills, confidence and building resilience. Parents and caregivers can also benefit from playgroup participation by connecting with others in similar situations, sharing ideas and talking about the joys and challenges of parenting.
For those wanting to start a playgroup of their own, the first step can be as simple as inviting neighbors, school friends and casual playground acquaintances to meet semi-regularly to do an activity or play at a park. The qualities of a successful community playgroup for the under-five set include having a defined start and end time, providing sensory objects to interact with and being unstructured with room to play. Unstructured activities encourage children to cooperate and create imaginative games and scenarios. Parents will also need to stay within sight and earshot of their children and be able to make a quick decision to cut the playdate short if their child's emotions start to run high. It is important to always try and leave playgroup on a good note and with plans for the next one.
For those who would rather join an existing program, many of Fairfax County Public Library (FCPL) branches are home to playgroups available for free to community members with young children. These groups are usually for babies, toddlers and preschoolers along with their caregivers and feature a variety of activities including storytimes, sensory play, crafts and more. Some of the groups are open to walk-ins, while others require registration in advance, so be sure to check out bit.ly/FCPL_Playgroups for more information before heading out to one.
Another resource for playgroups and similar activities is Fairfax County Park Authority, which offers multiple classes throughout the week for children ages 5 and under covering a variety of topics. Information about these programs can be found at bit.ly/FFC_Parktakes. For less formal, neighborhood-based groups, check out MOMS Club. This nationwide organization has multiple chapters throughout Fairfax County and the Washington D.C. area. Learn more at momsclub.org. Regardless of which type of playgroup you choose, everyone involved greatly benefits from participating. From learning new things to making new friends, playgroups are a great resource for developing happy and healthy children!