Learn how picture book illustrations impact children's reading and how a local illustrator approaches that important job.
---
By Marina Canant, Youth Services Assistant, Patrick Henry Library
---
Stories and Images: An Ancient Pairing
Narrative images have long been used to tell stories. The Bradshaw Foundation's Rock Art Archives specify that the earliest recorded illustrations appear in cave paintings in Lascaux, France. Estimated to be up to 20,000 years old, these paintings depict nearly 2,000 figures of animals, humans and abstract signs. 
Illustrations Aid Literacy
Using visual aids for storytelling continues today, and it plays a vital role in introducing children to reading. Illustrations often serve not only to draw children into a story but also to aid in their understanding. In a study on The Influence of Illustrations published in the Reading Psychology journal, first and third graders were tested on reading comprehension of books with and without illustrations. Both grades showed highest comprehension of the books including illustrations. 
An Illustrator's Perspective
Alexandria, Virginia, resident Vidya Vasudevan (pictured at right) has been an illustrator of children's books for more than 15 years. She has illustrated books including The Most Beautiful Girl by M.P. Trinidad and My Mom Hugs Trees and other titles by Robyn Ringgold. 
Since reading collections of classic stories as a young girl, Vidya knew that she wanted to use her imagination to bring stories to life by illustrating. She emphasizes that illustrations are essential to connecting with a story and that the words and pictures complement each other. "As a child is being read to or reading themselves," she said, "knowingly or unknowingly they are associating words with the pictures." 
Conveying Emotion
Vidya stresses that illustrations help children relate to characters and understand different emotions. While voice, tone and consistency of characters are important in her process, she likes to focus on the emotions attached to the story when doing her illustrations. Once she illustrated a book dedicated to a young girl who had lost her father. Vidya understood the importance of emotional connectivity of the story and pictures for this project. "I knew this book was going to be special for her," she said.
Suggested Reading by Vidya
One picture book that inspired Vidya is What Do You Do with an Idea? by Kobi Yamada. This book follows the story of one brilliant idea and the child who helps to bring it into the world. "It is amazing that an idea is such an abstract thing, but to give that form and to show in a simple yet effective way how an idea can change the world — it is so delightful," Vidya said.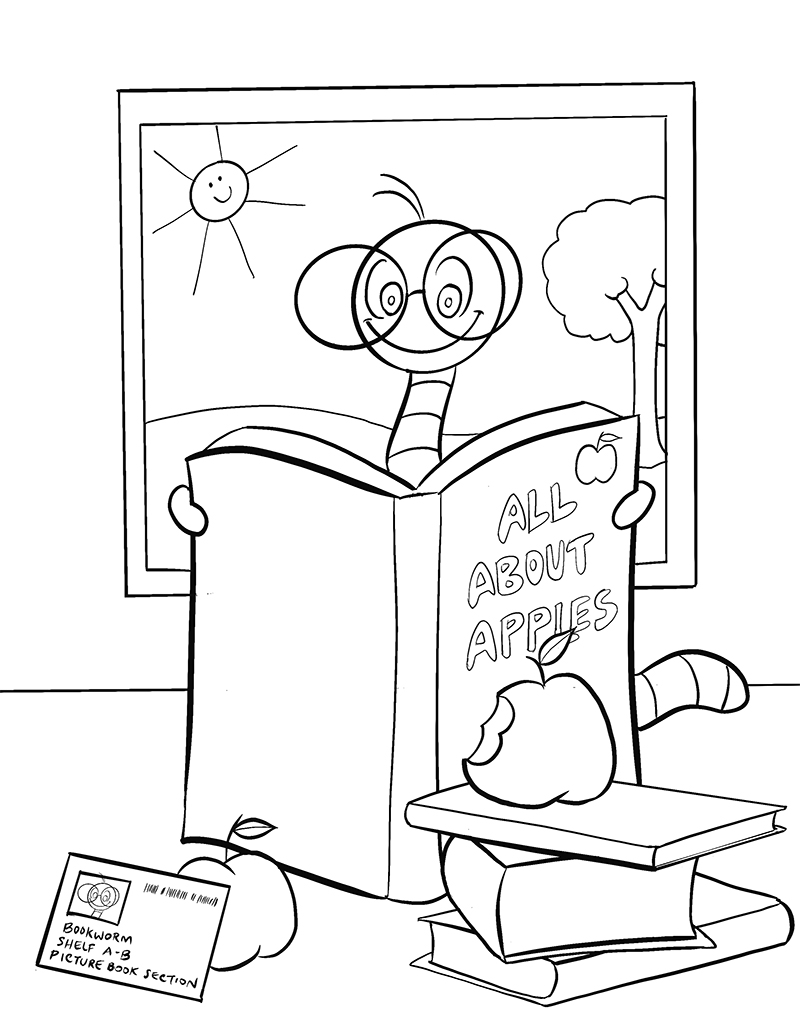 Look for What Do You Do with an Idea? and find many other wonderful picture books in FCPL's catalog, or use OverDrive's Libby app to borrow from the library's collection of digital picture books. For more recommendations, use FCPL's My Perfect Read advisory service, chat online or by text with library staff via the Ask Your Library service, or ask at your local branch. 
Color Vidya's Illustration!
Color in Vidya's bookworm illustration in the print magazine available in branches or click the image here for a printable version. Enjoy Vidya's art feature on this page, and view more on her Facebook page and Instagram.