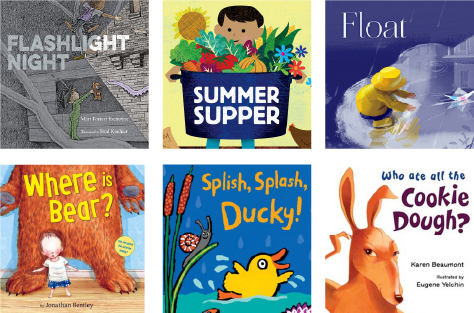 Introducing stories visually maximizes the impacts of reading to children.
Pictures First, Words Later
You may already be familiar with StoryWalks (especially if you read the spring issue of Branch Out!), but have you heard of picture walks? A picture walk involves looking at the pictures in a picture book to familiarize children with the story prior to introducing the text.
A picture walk builds interest and excitement and can serve as a preview for important concepts and vocabulary that will make your read-aloud more successful. Plus, it reinforces the reading strategy of using picture clues and helps develop your children's language and pre-reading skills.
Map Out Your Journey
First, read the book yourself. As you do, look closely at the illustrations, text and structure. What parts might be challenging for children? What concepts and vocabulary will be new? What can you say to increase their excitement?
Build Up to the Story While taking a picture walk you might:
Look at the cover and make predictions.
Use some of the vocabulary in the story that might be new or unfamiliar to the children.
Ask questions about who the story might be about, where it is taking place and what is happening.
Tie in past experiences to make the story more meaningful.
These actions will encourage children's contributions in group discussions, improve their comprehension of the story and engage the children as active participants in storytime. When we provide children a glimpse of visual story elements it helps stir their imaginations and involves them in the storytime experience.
Wonderful Books for a Picture Walk
Flashlight Night by Matt Esenwine
Three children use a flashlight to illuminate a path around their backyard at night. In the flashlight's beam another world looms.
Float by Daniel Miyares
A wordless picture book about a boy who loses his paper boat in the rain.
Splish, Splash, Ducky! by Lucy Cousins
Ducky Duckling has a rainy-day adventure, but when the rain stops he feels sad.
Summer Supper by Rubin Pfeffer
Follow the creation of a family meal from the farm to the picnic table on a warm, sunny day.
Who Ate All the Cookie Dough? by Karen Beaumont
Kanga and her friends try to discover who ate all her cookie dough.
Where's Bunny? by Theo Heras
A cozy celebration of bedtime routines.
Where is Bear? by Jonathan Bentley
A little boy and his best friend ― an actual bear ― go on a search for a teddy bear before bedtime.