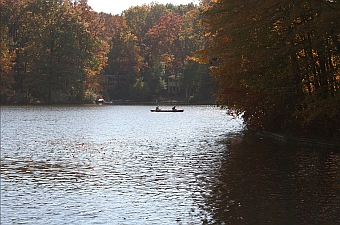 The Fairfax County Open Space/Historic Preservation Easements Program is committed to helping owners protect open space, historic resources, scenic vistas, and sensitive natural areas on their property, enabling these resources to remain in private ownership. Donating a perpetual easement may qualify for certain federal, state and/or local tax benefits. In addition, donating a perpetual easement can be beneficial in terms of estate taxes for passing on land or a treasured historic, scenic, or natural resource intact to the next generation. An easement is implemented through a deed of easement conveyed by the property owner to an easement-holding organization such as a private land trust or a government entity.
Fairfax County has entered into a public-private partnership with the Northern Virginia Conservation Trust (NVCT), a private non-profit land trust eligible to hold easements. This public-private partnership does not preclude property owners interested in putting easements on their properties from working with any other qualified easement-holding entity. These include qualified county or regional authorities and agencies, as well as local, state or national non-profit land trusts. For example, the Fairfax County Park Authority and the Northern Virginia Regional Park Authority each hold easements for open space and park purposes. The Potomac Conservancy specializes in holding easements on properties along the Potomac River and holds easements in Virginia, Maryland, West Virginia and the District of Columbia. The McLean Land Conservancy focuses on the McLean area.
Open space/historic preservation easements allow individual landowners to permanently protect their land or historic structure while continuing to own and enjoy it. Because these easements are generally perpetual and run with the land, the terms of the easement bind the current property owner, heirs, and those who purchase the property in the future.
For more information, see Frequently Asked Questions for conserving open space and historic resources through easements.