(Posted 2021 December)
"Without JCADA, I would not have reclaimed my life so quickly, but more, I would not have had the wherewithal to build the beautiful, joyful, healthy and peaceful life I am creating that already is beyond my wildest dreams. Thank you for helping me break the cycle of abuse for me and my children." –Gabriella*
These words from a Jewish Coalition Against Domestic Abuse (JCADA) client stand out as the organization transitions through its 21st year of service to the Greater Washington community.
At the same time, "we are emerging from a pandemic leading to unprecedented stressful times, the effects of which we will not know fully for years," says Amanda Katz, JCADA's executive director. "We do know calls to our Help Line increased 83% and we rose to meet victims pleading for help with domestic violence, stalking, elder abuse, sexual assault, and workplace harassment."
As JCADA marks this milestone, Katz looks back at how the organization started "with one part-time counselor addressing domestic and dating abuse in the Jewish community.
Fast forward to the year 2009, when we launched our AWARE ® dating abuse prevention initiative, teaching teens and young adults about healthy relationships. In 2015 we launched our Legal Program, and in 2018, began providing victim advocacy services," she says.
It's this careful expansion of necessary services that makes JCADA such an ideal partner with the Domestic Violence Action Center (DVAC). "Because of our relationship with DVAC, we know that the citizens of Fairfax County are getting the best and most comprehensive services from us and all of our partner agencies," Katz says. "We also know that community dollars are being used efficiently because DVAC is paying attention to the needs of the community."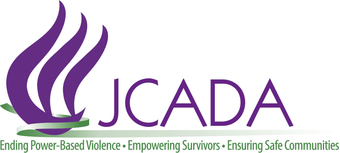 Today, there are 25 JCADA staff members working with the board of directors to provide high-quality, trauma-informed direct services and education about power-based violence.
"This year we helped 1,335 people during the pandemic," Katz says. "That is a 70% increase over the year before, which was doubled from the year before that! The headlines and numerous articles about the issue show us society is finally paying attention to the nightmare of the abuse and violence our clients suffer daily. And we know JCADA is ready to continue to fulfill our commitment to end power-based violence, empower survivors, and ensure safe communities."
Throughout the pandemic JCADA continued to:
Answer the helpline every day for safety planning to help people stay physically and emotionally safe and give support to loved ones who want to help;
Provide phone-based counseling and support groups to clients;
Find people shelter and access to public benefits, as well as distribute grocery cards for emergency food assistance;
Represent survivors who need a protective order from their abuser; and
Educate the community about warning signs of unhealthy relationships and share resources through webinars, videos, and social media.
Despite the wide array of services JCADA provides, Katz gives a gentle reminder that the dual crises of gender-based violence and the pandemic are far from over. "The need for JCADA's services continues unabated."
---
This article posting is part of the Domestic and Sexual Violence Services' Volunteer Voices monthly newsletter for current and potential volunteers. If you're not already a volunteer, learn how to get involved. Find out about upcoming trainings, volunteer trainings, happenings around the DSVS office and information about articles, books, media recommendations and more.
Learn more about the Domestic and Sexual Violence Services (DSVS).